Passionate advocate recognized
RAY ROBERTSON INDUCTED INTO HALL OF FAME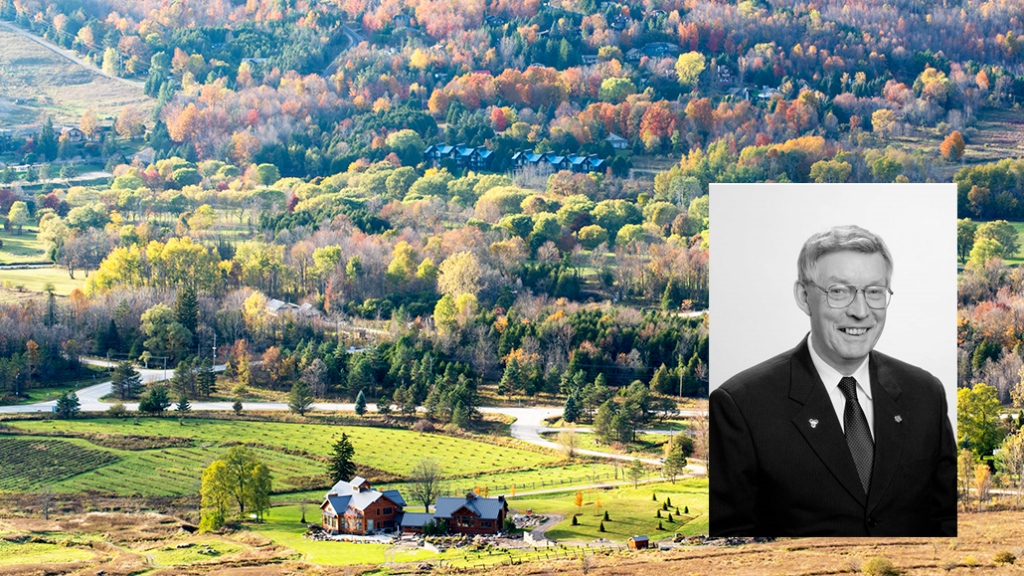 ASK THOSE WHO know him about Ray Robertson; the words dedicated and communicator come up frequently. Robertson is well known in the farm community and is being inducted into both the Ontario and Canadian Agricultural Halls of Fame this year.
"For Ray, it isn't just a paycheck. He's very dedicated to doing everything he can to improve on-farm activity — especially in the areas of soil health and growing forages," says Les Nichol, past president of the Ontario Soil and Crop Improvement Association. Nichols has known Robertson for more than 20 years.
"Whether in a crowd or at the podium, he knows how to speak and how to rally the troops for a cause he's passionate about," says Lorie Smith, who has worked with Robertson for 18 years at Grey Agricultural Services, an organization he founded in 2000.
THE EARLY YEARS
Robertson was born in Markdale, Ontario 80 years ago. After living in Owen Sound for five years after marriage, he moved back to start a dairy farm in the area with his wife Evelyn and has stayed there ever since.
Beef farming followed dairy farming, and when the BSE outbreak devastated that industry in 2003, he switched to custom pasturing.
"I did rotational grazing and took in cows and calves until just three years ago," he says.
Throughout his career, Robertson was heavily involved in agricultural organizations. He served as a director and chair of the board of Gay Lea Foods Co-operative, moving on to the board of the Co-operators Group of Companies and the Canadian Co-operative Association. There, he chaired the international program committee, which took him overseas on a number of missions.
"It's been a great journey, and I've met some wonderful people — I've been to Nepal 16 times," he says, adding that he continues to keep in touch today.
GREY AGRICULTURAL SERVICES
When the provincial government shut down all county agricultural field offices, including Markdale, in 2000, Robertson was working with 600 farmers on land stewardship programs.
"I needed a place to serve them, and I worked with the farm organizations in Grey County to put the idea to county council to set up an agricultural services office," he says. That's when the idea for Grey Agricultural Services was born.
When the Markdale government office officially closed on April 31, 2000, a new temporary office opened the very next day, which was replaced by the current permanent office seven months later.
Robertson then set about obtaining contracts for funding from the various local farm-related associations, including the Ontario Forage Council (OFC).
When its leader, Dr. Stan Young of the University of Guelph, retired, the Council approached Robertson to see if he would take on its management.
"Initially, I didn't think I was capable of taking on an organization like that," he says, adding that he had always had an interest in forages and was keen on growing a 'good crop of hay.'
He recruited Joan McKinley, who had also been laid off from her government job as a highly respected soil and crop adviser, to help with communications and extension and to improve the Council's work.
"It was a really big job — we had to develop a membership structure, new programs, a website — all the things you need to run an organization," he says, acknowledging the "tremendous team" who worked with him.
BUILDING MOMENTUM
He was also a driving force behind the formation of the Canadian Forage and Grassland Association, which honoured Robertson last year with its leadership award.
"We wanted to be able to share ideas across the country," he says. "Also, to get federal funding and to get into trade missions, we had to have a national organization."
Once that was secured, fact-finding missions to places like the Middle East and China soon followed.
"We are now exporting hay from Grey County and Ontario to the Middle East," he says.
BACK HOME
Grey-Bruce Farmers' Week (GBFW) — a high point in Ontario's agricultural calendar — was nearly shut down with the local government office closure. However, area farm organizations were determined to continue the educational event and appointed Robertson to co-ordinate.
In addition, the Ontario Soil and Crop Improvement Association tapped him to be the communications coordinator for the Georgian Central Region, encompassing the counties of Grey, Bruce, Dufferin, Simcoe South, and Simcoe North.
Lorie Smith has since taken over the reins for leading the organization of GBFW, expanding the programming, and building sponsorships over the years. This is in addition to the ongoing, year-round work she and the staff of Grey Ag Services do for farmers.
"It's wonderful that Ray's work is being acknowledged," she says.
"Grey Ag Services wouldn't exist if he hadn't started it," she adds. "Over the years, if he sees a challenge, he'll work through it, coming up with an idea, getting support from his wide network of contacts and pushing ahead."
Robertson says that Grey Ag Services is his proudest achievement — one he is quick to share with the centre's staff, including Lorie, Patricia Ellingwood and Emily McKague, as well as Keith and Joni Reid, who co-ordinate the ALUS program in Grey-Bruce, Joan McKinley, who continues to be the communications coordinator for the OFC, Grey County Council and many others who have worked with him.
"The ag centre has been the vehicle that I could use to achieve the things I wanted to do," he says. The Ontario Forage Council is a close second on his list of proud accomplishments.
"Being nominated by your peers is most gratifying," he says. "And being told the ag services and programs you helped build will benefit Ontario's and Canada's agriculture industry into the future is truly humbling."
Robertson was inducted into the Ontario Agricultural Hall of Fame in June 2023 and will be officially inducted into the Canadian Agricultural Hall of Fame at a November 2023 ceremony. •