International Year of Family Farming
ENSURING FUTURE GROWTH
A NORTH AMERICAN DIALOGUE
WHAT DO YOU consider a family farm? Chances are, you consider your operation a family farm – even if you hire some outside help. In Canada, 97 percent of farms surveyed for 'An Overview of the Canadian Agriculture and Agri-Food System 2011' said they were family farms.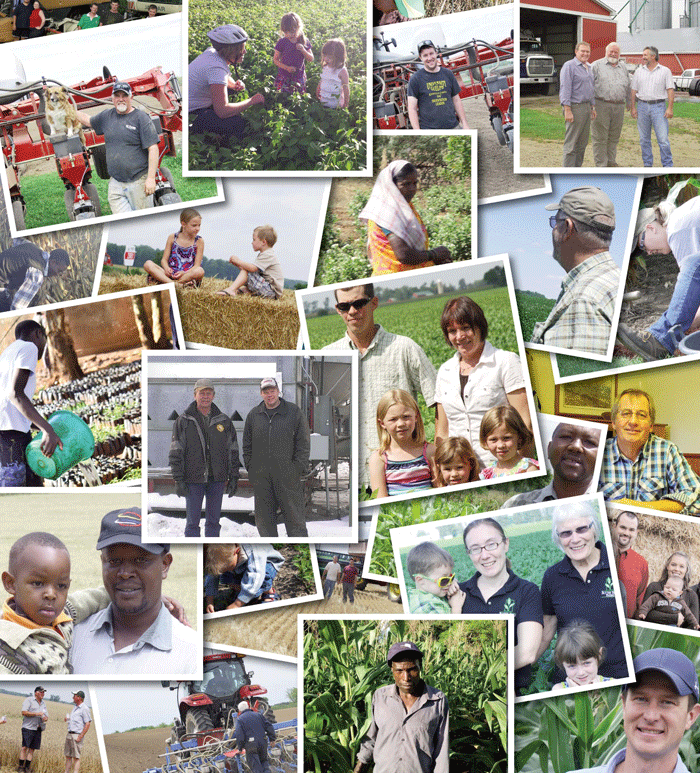 The United Nations Food and Agriculture Organization (UN FAO) declared 2014 the International Year of Family Farming. The goal is to raise awareness of the importance of this farming model and highlight the contributions farmers make to food security, economic growth, and the preservation of the environment around the world.
Canada participated in the International Year by hosting the North American Dialogue that took place in Quebec City in April. It was led by L'union des Producteurs Agricoles Développement international (UPA DI) with the support of several provincial and federal agencies, including Agriculture and Agri-Food Canada (AAFC). The Dialogue was designed to initiate conversation about what it means to be a family farmer in our part of the world and develop recommendations on what actions will ensure the future of family farms. It brought together representatives from 35 North American organizations, including 19 farm organizations and four international organizations, as well as the FAO.
"It's not easy to capture the concept of family farming into one definition," says Charles Cantin, who spent the last months of his tenure with AAFC helping to plan the Dialogue before his retirement in March. "What was interesting about the way this Dialogue was organized is we asked people what they liked, and had them speak from the heart. What brought people together is the idea that family is what is at the center of family farming — not economics or how much land is involved."
An overview of how family farms are classified in each country was provided in order to set a framework for the Dialogue. Across North America, the definition of a family farm is based on different criteria.
"The criteria set by the USDA is based on who owns the capital," says Tamari Langlais, UPA DI's Agente de formation et d`information, who presented the overview along with Jean- Michel Sourisseau. "In Canada, it's about the decision making and whether or not the farm manager declares if they are family owned and operated. In Mexico, they go more by the definition established by the FAO which is based on what proportion of work is provided by the family. If it's more than 50 percent, then it is considered a family farm."
Cantin says understanding where everyone else in the room was coming from helped to open up the conversation. "When we first started to organize the event there was concern that larger farms would be excluded from the conversation but what we saw after establishing this framework and encouraging different viewpoints was really a dialogue that didn't exclude anyone and allowed people to talk freely."
Out of the Dialogue, five key recommendations are being made to the UN FAO – they are the basic conditions that the participants feel are necessary for the continuation of family farming in North America.
The first two recommendations are closely linked together — promote the establishment of new farming generations and guarantee access to financing and land. With the aging agriculture population in Canada and the US, a smooth transition is needed to a younger generation of farmers. However, with the high-cost of land and the competition that exists between multinational investors and young local farmers, governments may have to step in to ensure good credit facilitation exists and that land is available.
Participants in the dialogue also felt regulations should be put in place to ensure a decent income for farmers through fairer commercial rules. Governments who have disengaged themselves from agricultural investment over the past three decades need to put more money back into the sector to help ensure food stability and food security. Independent research needs to be funded and extension workers should be available.
The final action necessary to ensure the future of family farming is the recognition of the numerous ways it benefits society as a whole. Farmers are important business operators who employ people and foster a lively community.
"What was interesting is all these organizations that don't share the same view of agricultural policy were brought together and agreed on what was needed for the future of family farming," says Cantin. "Since these recommended policies are for family farming, farmers and farm organizations should participate in their final design and implementation." 
A full consensus was not reached on every recommendation; however, Langlais says that's ok. "We instructed the people writing the report to also include the divergences and different points of view. That's what dialogue is all about; it's not just consensus building, it's also about trying to understand each other's point of view and respecting the differences and we want that to come out in the final paper," says Langlais.
The report will be discussed along with those generated from six other regional dialogues at a global conference being held this fall.
AN ONTARIO PROFILE
Amy Petherick
GARNISS FARMS LTD exemplifies the progress of Ontario's family farms. It's owners, Adam and Cheryl Garniss, show the willingness of a new generation of farmers to adapt to change without losing sight of their family roots.
PHOTO: THE GARNISS FAMILY.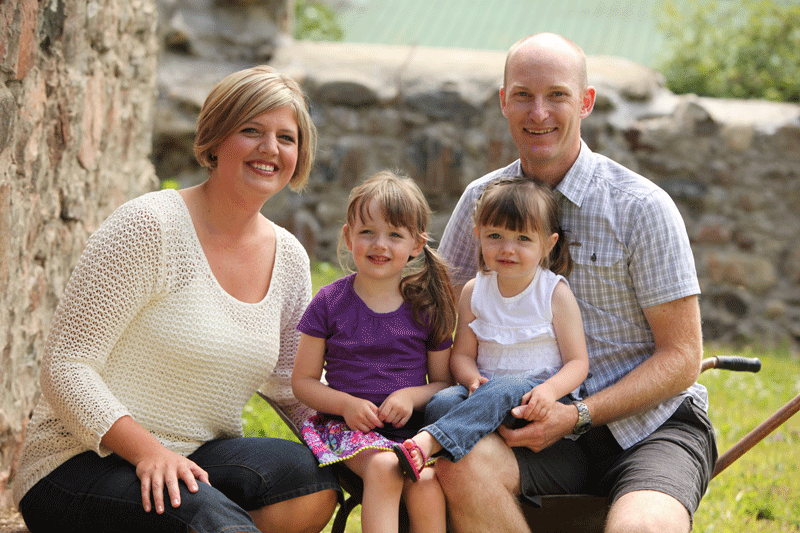 Garniss Farms involves working relationships with Adam's father, Doug, and uncle, Bill. The family farms, located in Wingham, are mixed operations producing corn for their beef cattle and pigs, and wheat and bean crops destined for export markets. Brothers Doug and Bill have operated their farm as a partnership since 1974, but the addition of the next generation has greatly increased the business' complexity.
Adam came home to start farming in 2007 after graduating from the University of Guelph and working for Cargill in sales and agronomy for five years. He brought with him his farm- raised wife, Cheryl, whom he met at Cargill after she graduated from Trent University. As well as cash cropping, Adam and Cheryl have a DeKalb seed dealership, a custom spraying business and a crop consulting business.
Together, the Garniss families partner to farm 950 acres. Livestock care and custom combining are officially left to Adam's parents, while Adam's uncle and cousin run a custom forage harvesting and machine shop operation. Adam says help flows freely within the family.
"I love working with my family — that's a rarity nowadays — but I think it has been important to be our own individuals," he says. He's grateful his uncle is an excellent mechanic and Adam knows the family appreciates his agronomy and marketing skills. "The trick with keeping everything separate is to maximize our economies of scale and to keep everything financially fair – so if I borrow an employee or loader tractor, I have to have notes."
Adam finds his smartphone has become a critical recordkeeping tool, especially since they decided to incorporate in 2012. Incorporation has increased the farm's reliance on an accountant and they have had to develop formal business plans, but learning how to access government funding has helped. Even with two on-farm mentors, Adam says learning about grants, farm business registrations, land transfers, and tax rates is challenging.
"I like to be out getting dirty, working in the shop or working in the barn, but the best money I can make is actually forcing myself to sit down in the office," he says. "For my father and uncle, just knuckling down and working hard was their business strategy but that's not the only way to be successful anymore."
Adam and Cheryl still have to work hard and put long hours in. They are constantly weighing new opportunities to improve their business, like growing corn in narrow rows, or changing the way they apply nitrogen, or preparing to deal with challenges to come.
Cheryl says farming offers them a lot. The couple agrees that they really love being their own boss, enjoy the diversity of their work, and how much time they get to have with their kids. The couple has two daughters, Ainsley and Evelyn. The family was featured this year by Farm and Food Care in their annual Faces of Farming Calendar. Both girls, though neither is yet five years old, already show an affinity for agriculture.
"I hope that if either girl wants to farm, we're in a financial position where we can help them get started," Cheryl muses. For now, Adam and Cheryl are simultaneously focused on expanding their own farm while also trying to streamline their operation more too. "The challenge for us is always deciding which opportunities are the right ones, without taking away our flexibility to take advantage of others that come along."
AN INTERNATIONAL PROFILE
Melanie Epp
GROWING UP IN Argentina, Santiago del Solar always knew that he wanted to be a farmer. He also knew that success is not about adapting to change; success is about choosing progression and growth. With Del Solar at the helm, the family farm has done just that. Over the years, it has seen incredible change,  and in the process it has become much more sustainable – environmentally and financially.
PHOTO: MIGUEL AND SANTIAGO DEL SOLAR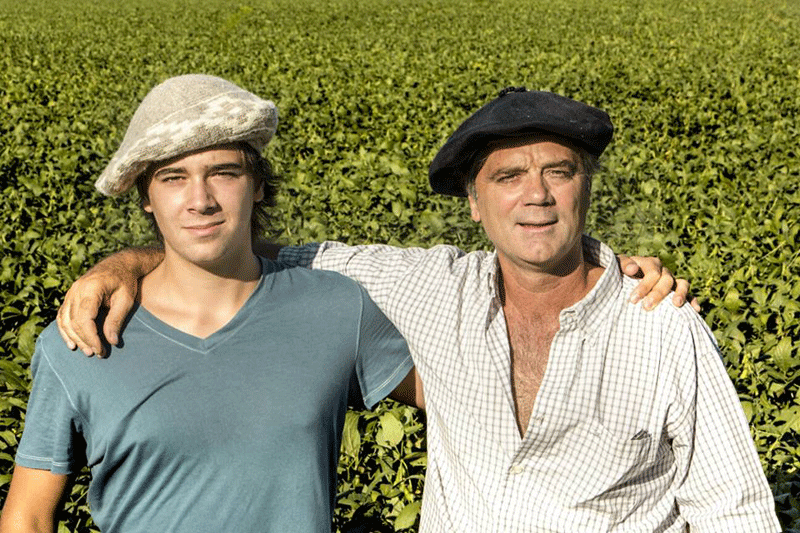 Del Solar comes from a long line of farming families. On his mother's side, he is the fifth generation and on his father's side, he is the sixth. He hopes his son, Miguel, or his nephews will continue as the next generation.
"Since the 1830s, my family was mainly ranchers," says Del Solar. "We had cattle, but not much crops. We used to sell steers mainly to Europe since 1900 – especially to the UK — when we started to be able to export chilled beef. That was the main business during those days."
When Del Solar was just a child, his father's focus was on cattle and horses. "We were gauchos," he says. "We love horses and working with cattle."
By the 1980s, Del Solar's father and uncle, both of whom were agronomists, started planting more crops and rotating alfalfa pastures in with those crops. At the time, they used plows, discs, and other types of tillage machinery. Eventually, they started to see erosion problems and grew concerned about the health of their land.
At the time, Del Solar was attending university where he earned a degree as an "Ingeniero Agrónomo." He began working on the family farm with his father and uncle, and after dealing with years of soil erosion, Del Solar knew something needed to change. In the early 1990s, he stopped grazing cattle entirely and got rid of the alfalfa and fences. He started practicing no-till and moved entirely into crops.
"We switched because of money," he says. "We had to find the best way to use our soil properly and get the best out of it with no-till, crop rotation, and the best technologies."
"Of course, it had some resistance by the older generation," he continues. "It was difficult to see our farm with no beef cattle. But I had the okay of my parents and uncle to start this new adventure."
Today, Del Solar operates the family farm with Miguel. Although he co-owns the 4,700 acre farm with his brothers, they no longer help with the physical operation of the farm. One is a diplomat, while the other is a mechanical engineer. Del Solar also manages acres for other members of his family and some of his neighbours. In total, he manages nearly 25,000 acres on local farms.
Del Solar produces corn, barley, sunflower, and wheat. Their main crop, though, is soybeans. Today, they use more advanced machinery — sprayers, seed drills, and tractors — instead of plows and discs.
Soil erosion is no longer a problem; however, one of the biggest challenges he and other Argentinian farmers face is climate change. In 2012, Del Solar's farm saw approximately 1,450 millimetres of rain — a record-breaking amount of precipitation. In 2013, though, it received only 547 millimetres.
"Our average is 820 millimetres," he says. "But averages never happen — we go from floods to droughts."
Heavy rains create problems on rural roads, he says. Argentinian farmers have found ways to work around that, though. They have developed plastic silo bags to store grain for several months at a time. Later, when the roads improve, they will sell and ship their grain.
Del Solar says that farmers in Argentina work hard to protect the environment by doing things better. He sits on the National Board of CREA (Regional Consortiums of Agricultural Experimentation), an organization of farmers who work in small groups to improve production.
"We as farmers care about our resources, but public opinion doesn't know and sometimes there are misunderstandings," he says. "So we have to take our time to try to explain the way we work on our farms."
"At the same time we have great pride in what we are doing," he concludes. "My brothers — even though they don't work in my farm operation — they feel as farmers. They are really proud when they visit our farm and I explain all that we are doing to produce more with less… helping our country, creating jobs, and helping to feed the world every single day."
For more information on the International Year of Family Farming, go to: http://www.fao.org/family-farming-2014/en/. The Dialogue report submitted to the UN FAO will be available on UPA's website (in the AIAF section) in June. •