Spring versus fall strip tillage
A CORN GROWER'S ADVANTAGE
IN ONTARIO, STRIP tillage had its origins mainly as a fall practice, but that is slowly changing. Those who have switched from fall to spring have cited a number of advantages, including lower fertilizer costs, reduced soil erosion, and increased cropping flexibility. Not only that, but in some systems, spring tillage allows growers to better adapt to changing weather conditions.
PHOTO: GREG STEWART (LEFT) WITH KEITH MARTIN (RIGHT). MARTIN (PICTURED WITH HIS STRIPCAT) PRESENTED AT FARMSMART.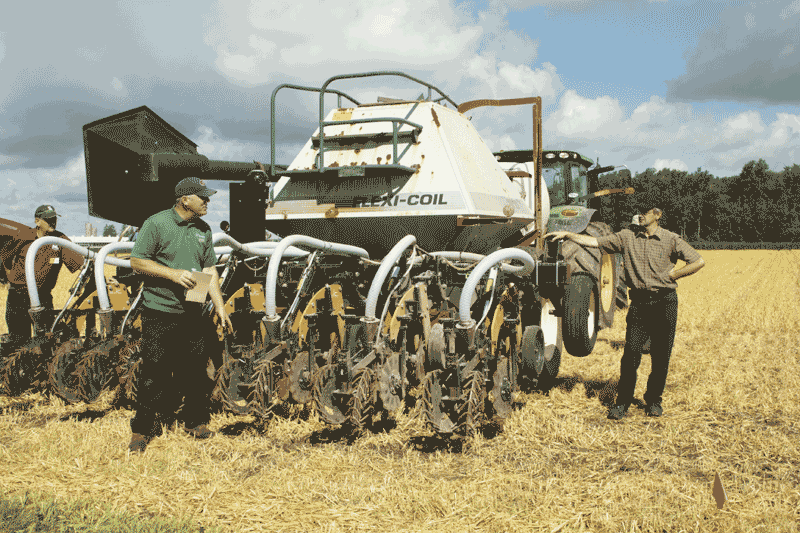 Spring strip tillage is not for everyone — it really comes down to individual soil conditions, as well as which crops are in your rotation. For example, in wheat fields that will be planted to corn some growers prefer to strip till in the fall as it provides a more planter-friendly zone in the spring. When corn is planted into soybean stubble the advantages of fall strip tillage are less obvious, particularly on well-drained soils. 
Some fall strip-tillers find that the quality of the strip is often not as good come spring, especially if there is a chance that residue can blow over and cover the soil. Added residue can lead to excessive moisture in the berm and have an impact on soil settling.
Some growers like that spring strip tillage gives them more flexibility in their cropping programs, while others maintain that leaving the ground covered throughout the winter reduces soil erosion. In some cases, fall tillage is just not an option. By the time the grower is ready to till, the ground is too wet or snow has already settled.
On the other hand, proponents of fall tillage cite warmer soil temperatures and a lack of time come spring as reasons for choosing fall over spring strip tillage. Others have found that spring tillage creates compaction issues, especially in a wet spring. Spring nitrogen applications create concerns for growers, as some worry about seed burn. Finally, timing is a concern in any system. Soils can quickly dry out, creating seed-to-soil contact issues.
FALL PREFERENCE
Ken Nixon, past president of the Innovative Farmers Association, prefers to strip till in the fall mainly because it helps to reduce the workload in the spring.
"I believe any strip tillage tool, regardless of whether it's a shank, a coulter, whoever's make it is, works best with dry soil," says Nixon. "And generally speaking, in Ontario, the highest probability of dry soil will be in August and September. Probably the reason we are fall strip tillers is because we are in three-crop rotation of corn, soy, wheat."
Nixon says he only became a spring strip tiller because conditions last fall were too wet for tillage.
Corn, he says, seems to require a bit of zone clearing and possibly some tillage in the row to help mitigate a number of the stresses that it seems to succumb to.
Corn does not seem to have very robust root growth in colder soils either, he continues. Also, it does not seem to like residue anywhere near the seedling, nor in the soil around the seed.
"We seem to have seed corn maggot, which some seed treatments mitigate," he says. "But things like slugs and millipedes, which are not controlled by any of the seed insecticides we currently employ, require other types of management."
In his current system, Nixon puts down all of this phosphorus and potassium in the fall in the strip. "We put down enough phosphorus for two crops, and enough potash for three crops," he says. "In August or September when you call a fertilizer retailer and you want him to drop a tender truck in the field and leave it there for the afternoon they will, simply because there's not a lot of fertilizer moving at that time of year." They won't do the same for you in April or May, he says.
SPRING PREFERENCE
Greg Stewart, corn specialist with the Ontario Ministry of Agriculture, Food and Rural Affairs, is actively researching spring strip tillage. While he has tried putting potassium and phosphorus down in the fall by blowing it down into the berm, he says it did not work, especially on medium or low testing soils.
"It wasn't near as good as a spring application," he says. "Why? It could be placement. It could be concentration."
Instead, Stewart is testing putting the full NPK package on in the spring, this allows for combining tillage and fertilizer applications into one pass.
When making the choice between spring or fall strip tillage, the equipment you use will play a role too. Using a shank-based system causes anxiety for some growers, says Stewart.
"The number one roadblock to spring strip tillage with a shank-based system is that it poses a challenge on heavy soils," he says. "On lighter soils, though, a shank-based system can work."
Strip tilling in the fall presents challenges for some too, says Stewart. "Creating a nice berm in the fall and having it stay until spring can be a challenge, for instance."
Basically, you have to match the system with the soil.
Jim Patton has been practicing strip tillage for well over a decade now. He says he likes it because it saves on labour and input costs, plus it provides consistent yields. Using a six- row machine, Patton used to make his berms in the fall. By March though, the berms were divots instead of mounds. In 2002, he was not able to get all of his strips down in the fall, so he did some in the spring.
"When I went to plant those strips beside what I had done in the fall, the ground was actually warmer on those spring strips," he says. In some cases, the two strips differed by as many as 11 degrees Celsius. 
Weight-wise, using a six-row planter was not easy, plus it was only good for about 11 to 12 acres at a time. At the time, they were putting down starter and going in to side dress with nitrogen later. 
Patton's goal was to strip-till and fertilize in one pass so he could eliminate carrying fertilizer on the planter for efficiency. "I need to do it efficiently and I need to do it fast," he says. They quickly realized that putting fertilizer down at the same time as planting was not going to work. In 2007, Patton built his own 12-row machine. "Then we got a muffler shop to custom build us some shanks, and then we got some splitters and I bought an old fertilizer cart and voila — we had a machine to strip till and put fertilizer down in one pass."
Today, Patton uses a John Deere 2510S. "We like it," he says. "It's a heavier machine, but it has flexibility. We have some pretty big rolling hills here."
The new equipment allows them to make better use of their time. Whereas they once got 11 to 12 acres to a fill, they can now get 80 acres to a fill. Patton's next goal is to play with efficiency of fertilizer in the zone. •