Investing in farmers
LAWRENCE MACAULAY, MINISTER OF AGRICULTURE AND AGRI-FOOD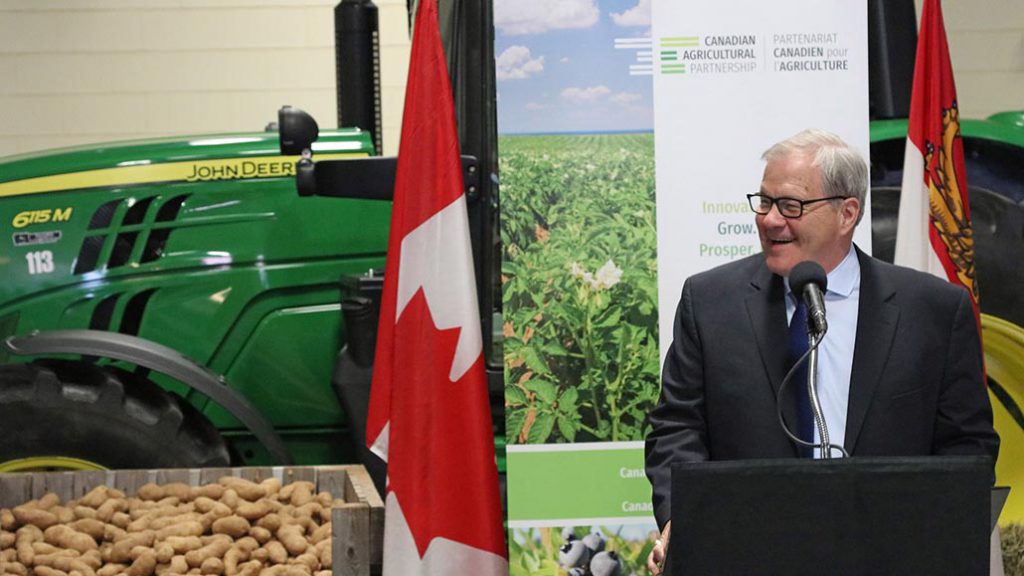 An Ontario Grain Farmer Q&A
(OGF) HOW WOULD A CONSERVATIVE GOVERNMENT ENSURE THAT TRADE AGREEMENTS WILL ENCOMPASS REDUCING TARIFFS ON GRAINS AND GRAIN PRODUCTS AND OPENING MARKET ACCESS?
(A.S.) Our farmers and their products can compete with the best in the world. The previous Conservative government knew this. That is why we signed 43 free trade agreements, and former Minister for Agriculture, the Honourable Gerry Ritz, fought hard to promote our grain and grain products abroad by opening the Market Access Secretariat and hiring several trade commissioners dedicated to agriculture issues. Farmers can expect the same level of dedication from a newly-elected Conservative government. In fact, this past summer I called on Justin Trudeau to call back the House of Commons and ratify the Comprehensive and Progressive Agreement for Trans-Pacific Partnership, given looming threats over our national economy. I'm also travelling to India this fall to repair and strengthen Canada-India relations. International trade is a serious endeavour requiring serious leadership, and farmers can count on a Conservative government to open markets and assist them in getting their products to those markets.
WILL YOU ESTABLISH A CONTINGENCY FUND TO REDUCE THE IMPACT OF GLOBAL TRADE TENSIONS THAT WILL HELP FARMERS MAINTAIN THEIR BUSINESSES IN THE EVENT OF FINANCIAL LOSS?
As was the case under the previous Conservative government, a newly-elected Conservative government will ensure that farmers have access to the tools that they need to succeed. Some of these tools would include programs to help farmers weather natural disasters or assist them in overcoming consequences of trade disputes.
WHAT IS YOUR COMMITMENT TO FUNDING RESEARCH AND SUPPORTING SCIENCE-BASED TECHNOLOGIES, SUCH AS AGRICULTURE-USE ARTIFICIAL TECHNOLOGY, ETHANOL AND BIO-DIESEL, GMOS, PLANT AND CROP PROTECTION, AND OTHER ADVANCEMENTS IN TECHNOLOGY, THAT IMPROVE THE PRODUCTIVITY OF FARMERS?
Conservatives believe in a science-based, predictable, regulatory system for new farming technologies, such as GMOs, to help our farmers access cutting edge technology and compete on the world stage. These decisions should be based on science, and not on politics or the desires of activists.
A GROWTH STRATEGY IS NEEDED TO ENSURE THE FUTURE SUCCESS OF THE GRAIN AND OILSEED INDUSTRY. WHAT IS YOUR VISION FOR INDUSTRY AND GOVERNMENT COLLABORATION WITHIN THE AGRICULTURE SECTOR?
A Conservative government would reduce unnecessary regulation and red tape, pursue trade deals to open market opportunities for farmers, and would seek to harmonize regulations with trading partners to ensure that our farmers are not at a competitive disadvantage. Farmers need to have the same tools as their competitors in other countries such as the United States.
CAN YOU SHARE WITH US AN EXPERIENCE ON A GRAIN FARM OR WITH A FARMER THAT HAS RESONATED WITH YOU OR HELPED TO CHANGE THE WAY YOU THINK ABOUT MODERN AGRICULTURE AND HOW YOU CAN HELP TO SUPPORT FARMERS AND FARM BUSINESSES?
Recently, I visited a farm in the Saskatchewan community that I am honoured to represent that grows harvest spring wheat, canola, and flaxseed. Similar to other farmers that I have spoken with, they expressed concerns with the uncertainty surrounding NAFTA and the need to diversify our markets. With a NAFTA agreement on the rocks, I think that Parliament must act now and ratify CPTPP. CPTPP has the potential to boost Canadian income by $20 billion over the next decade. If we wait, Canadians risk losing first-mover advantages. It is a huge opportunity to increase market access to some of the most prosperous and fastest growing markets in the world. Markets like Japan and Malaysia value the high-quality agri-food products Canada can deliver.
In addition to these very important concerns, they also spoke with me about the importance of manufacturing value-added products in Canada. These farmers grow flaxseed and, right now, the only option for them is to export their seed as is. Instead of exporting a raw material, investments in innovation could provide flaxseed farmers with the ability to transform their flaxseed into oil in Canada, allowing them to further diversify the products they sell. A Conservative government would recognize the need for this type of innovation and work with farmers to compete on the world stage.
IS THERE A MESSAGE YOU WOULD LIKE TO DELIVER SPECIFICALLY TO ONTARIO GRAIN FARMERS?
Our Conservative Party knows that Canadian farmers produce some of the best quality products, and that a healthy agricultural sector means healthy communities, a healthy Canada, and a healthy world. In an unpredictable world, farmers can count on Conservatives to provide them with predictability and the assistance they need to make a living, support their families and feed our cities. •