Growing future leaders
CORTEVA AGRISCIENCE YOUNG LEADER PROGRAM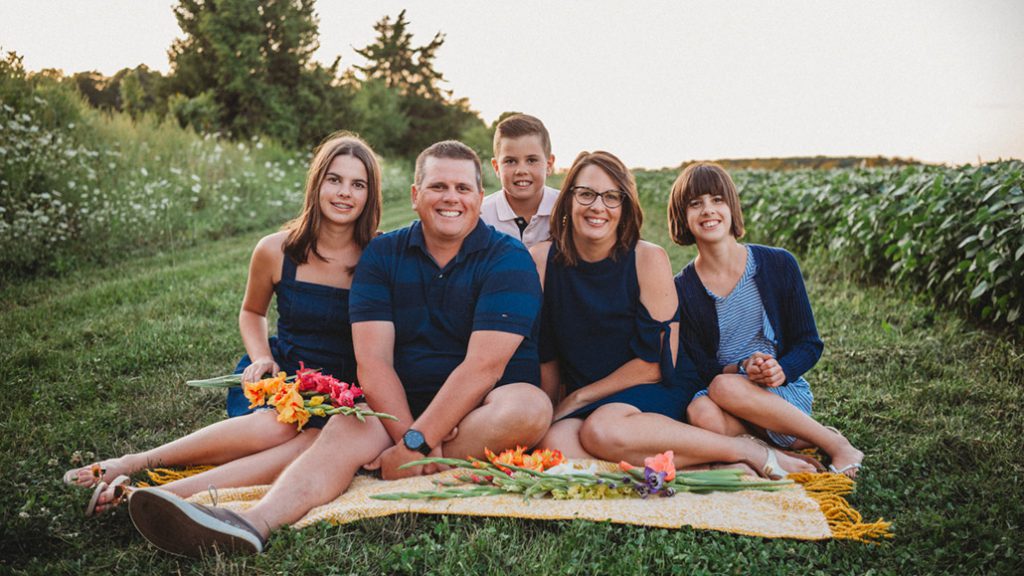 CHRIS AND RACHEL RENWICK of Wheatley, Ontario were selected as the 2019-2020 Grain Farmers of Ontario representatives to the Corteva Agriscience Young Leaders Program, an annual producer-education program organized by the American Soybean Association that brings together young farmers from across North America to develop leadership skills, improve communication skills and learn more about the issues facing the soybean industry.
The Renwicks participated in the first session of the program December 3-6, 2019 at the Corteva headquarters in Indianapolis, Indiana, and came home enthusiastic about the opportunity and looking forward to the next session, to be held in conjunction with the annual Commodity Classic in San Antonio, Texas February 25-29, 2020.
SEVENTH GENERATION FARMERS
Chris and Rachel are the seventh generation of Renwicks farming in Chatham-Kent — Chris's family has been farming their family homestead since the 1820s. But like many young farmers, their path to operating their own farm hasn't followed a straight line.
After graduating from the University of Guelph Ridgetown Campus in 1999, Chris worked full-time in agri-business, and Rachel worked for a local investment firm.
But they always knew they wanted to farm, and they got the chance in 2002 with the opportunity to rent land from Rachel's parents. In the years since, their farm, in combination with the existing Renwick Farm, has grown to more than 800 acres of rented and owned land where they grow corn, wheat and soybeans.
While the Renwicks have their own farm operation, they work in partnership with Chris's parents, sharing equipment and farm labour. The long-term plan is to take over the family homestead, and in 2018 they started a succession plan, and according to Chris, "like any succession plan it's still a work in progress."
Rachel worked at her off-farm job for 19 years, but as the farm grew, so did her on-farm responsibilities, and four years ago she made the decision to commit full-time to her farm and her family. Chris continues to work at an off-farm job as a sales representative for UAP Canada.
In addition to growing crops, the Renwicks are raising the next generation of farmers. Their three children Melyse, 15, Sadie, 12 and Shawn, age nine, are enthusiastic participants in farm life and have even started their own farm-gate business — a summer stand that sells market produce such as gladiolas, sunflowers, pumpkins and zucchinis.
The Renwicks are actively engaged in their community: they are active in their church; Rachel volunteers to support the kids' schools in fundraising and events; and Chris plays hockey and coaches their kids' hockey and soccer teams. But what they are especially passionate about is educating the non-farm public about how they produce food on their farm, and they participate in a number of initiatives to engage students and consumers. The Lambton-Kent District School Board's 'adopt-a-farmer' program has them visiting local schools each year in February to celebrate Canada Agriculture Day; they've worked with kindergarten students to grow a community garden; and they are willing to open their farm for group tours, such as the Leamington Horticulture Society.
"In that group, there was a person who had never even been to a farm before," remarks Chris. "People eat every day, but they don't understand how the food comes to their table."
"It's important to us to educate them on why we use GMOs, why the pesticides we use are safe and the food we grow is healthy and safe to eat."
He says it's also important to showcase what they are doing on their farm to be good environmental stewards, like planting grass buffer strips. "We farm right on Lake Erie," he says. "We want to keep erosion as minimal as possible."
LEADERS IN TRAINING
Chris, who has recently become involved with District 2 (Kent) of Grain Farmers of Ontario as a delegate, says they were encouraged to apply for the opportunity to participate in the Corteva Agriscience Young Farmer Program by other Grain Farmers of Ontario members.
They say it has been a really worthwhile experience for them so far. The first session focused on leadership development, improving communication skills and interpersonal skills. They also got to see how their farm operation fits into the bigger picture of agriculture from an international perspective.
"We come from a small farm in Chatham-Kent," says Chris. "Ontario is a small percentage of farming in the world… we've had the opportunity to learn a lot about how Canadian and U.S. operations work and do things, and to look at our own operation within the bigger picture."
But the most valuable take-away has been the opportunity to network with other young farmers from across North America.
"We met a lot of great people," says Rachel. "It was refreshing to be around people who understood us. There aren't a lot of people our age farming in our local area."
Rachel says that most of the young farmers in the program are also struggling with finding their place in their family farm operations and planning for their futures. "Almost every person has an off-farm job," she says of her fellow participants. "They were all saying, 'there is not enough room for me.'"
Chris says that everyone is feeling challenged by the prevailing economic, trade and environmental challenges that farmers are facing, and are asking "where do we go next?"
But, Chris says, farmers are eternally optimistic. "We all believe that next year will be better." •