GrainTALK for March 2020
AN UPDATE ON GRAIN FARMERS OF ONTARIO NEWS AND EVENTS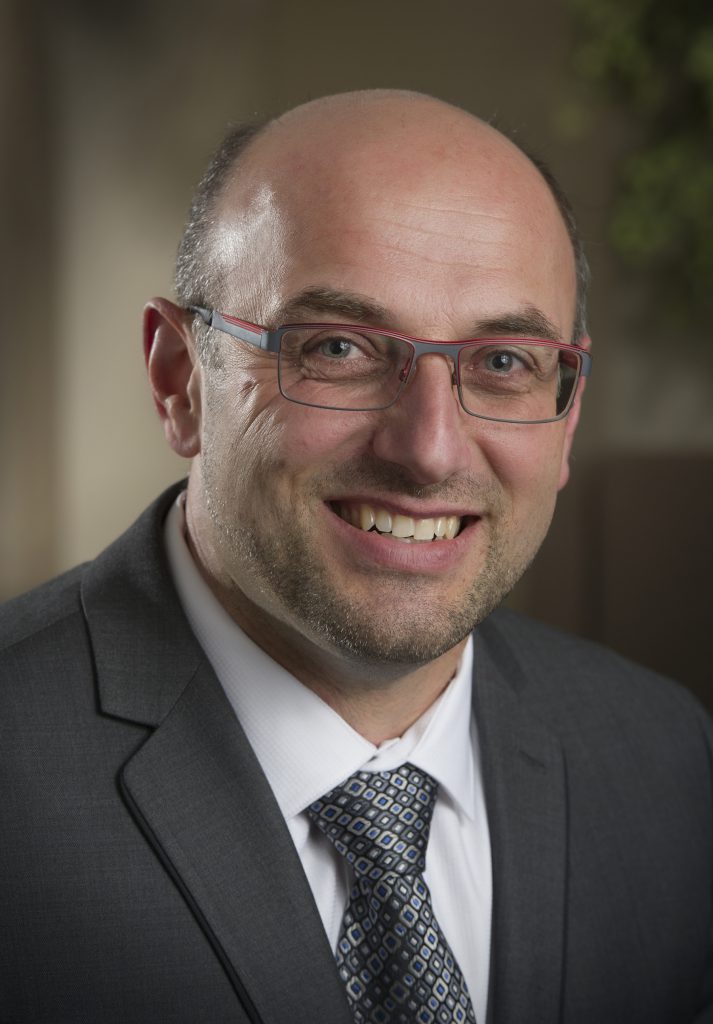 FROM THE CHAIR
A Q&A with Grain Farmers of Ontario chair, Markus Haerle.
Q. In your discussions with governments, what are you learning about the best way to be successful with our asks?
A. It is very important for agriculture to come together and celebrate all of the hard work done across the country, and it is equally as important for agriculture to find ways to champion itself to the public and to government.
We are very much at a point where we desperately need everyone to come together to be effective in getting changes made to programs.
It is clear to me that the governments want to see all stakeholders working together towards common goals. It is also clear that almost every commodity, including Grain Farmers of Ontario, has their own asks in front of the provincial and federal governments, so where can we prioritize and make joint asks? It is also vital that we partner with national organizations so that they represent all of us equally — we need to be leaders in bridging these divides.
I see a real opportunity in working with other less-supported commodities to see what success we can really achieve by being aligned on our BRM and RMP asks to the federal and provincial governments respectively. •
Do you have a question for our chair? Email GrainTALK@gfo.ca.
---
NEW CEREAL VARIETIES
At the Ontario Cereal Crop Committee (OCCC) annual quality subcommittee and main committee meetings in January, four new winter wheat varieties and four new 2-row barley varieties received support for registration in Ontario. Of the wheat varieties receiving support for registration, one SRW variety was developed by the University of Guelph Wheat Breeding Program, and one SRW variety was developed by the University of Guelph Ridgetown Campus breeding program. Grain Farmers of Ontario supports both the University of Guelph and Ridgetown Campus wheat breeding programs. The OCCC acts as the recommending body to the Canadian Food Inspection Agency (CFIA) for cereal variety registration in Ontario.
AGRIHR TOOLKIT
Grain Farmers of Ontario recently partnered with the Canadian Agricultural Human Resource Council. The Canadian Agricultural Human Resource Council (CAHRC) is a national, non-profit organization focused on addressing human resource issues facing agricultural businesses across Canada.
Our members will have access to resources that will help manage the people side of their farm businesses. One of these resources is a one-year free access to the AgriHR toolkit.
This toolkit offers everything you need to improve your people-management skills and develop key resources to help you find, retain, and support your employees.
If you are a Grain Farmers of Ontario member and are interested in access to the AgriHR Toolkit free for one year, email HR@gfo.ca to receive a promo code and link to the toolkit.
GRAINTALK E-NEWS SIGN UP
GrainTALK is Grain Farmers of Ontario's weekly e-newsletter that highlights the organization's latest activities.
MAGAZINE SUBSCRIPTION CHANGES
Farmer-members and industry associates who have changes to their mailing address or wish to cancel their subscription to the Ontario Grain Farmer magazine can contact Phaedra McIntosh, Grain Farmers of Ontario database coordinator, at pmcintosh@gfo.ca or 519-767-4130.
GRAINS IN ACTION
Grain Farmers of Ontario's annual leadership development program, Grains in Action, was held January 27 – 30, 2020 with 32 participating farmer-members from across the province.
Highlights of the program included networking opportunities with leaders in the grains and oilseed sector, tours of the Sarnia Grain Terminal, ADM, and Hiram Walker, and a visit to the University of Guelph Ridgetown Campus to learn more about Grain Farmers of Ontario sponsored research projects.
JANUARY DISTRICT MEETING PRIZE DRAW
Congratulations to the winners of our January District Meeting Prize Giveaway! Winners were drawn live on Twitter on Monday, January 22.
Fred Helwig (District 10 – Grey, Bruce, Wellington) is the Grand Prize winner of a trip for two to the Commodity Classic in San Antonio, Texas.
Ron Smith (District 6 – Haldimand, Brant, Hamilton, Niagara) is the winner of a weekend for two at Deerhurst in Huntsville.
Janine Visser (District 13 – Prince Edward, Lennox, Addington, Frontenac, Lanark, Leeds, Grenville, Renfrew, Ottawa) is the winner of a weekend for two at Hockley Valley Resort near Orangeville.
Thank you to all of our farmer-members who attended our January District Meetings.
PRIVACY POLICY
Grain Farmers of Ontario is committed to responsibly collecting, using, and disclosing information in compliance with the provincial Freedom of Information and Protection of Privacy Act and the federal Personal Information Protection and Electronic Documents Act. When you voluntarily provide us with any information, we will NOT rent, sell, or otherwise disseminate your information to ANY third party. Please contact Grain Farmers of Ontario's privacy officer at info@gfo.ca if you require additional information on privacy issues.
MARKET COMMENTARY
by Philip Shaw
On January 10, the United States Department of Agriculture (USDA) released their "final" WASDE report on the 2019 crop and increased both corn and soybean production slightly from their earlier December estimates. U.S. corn is now set to come in at 13.69 billion bushels, on a national yield of 168 bushels per acre. The USDA increased soybean production to 3.558 billion bushels, up from 3.55 billion bushels in their December report. This was based on a U.S. national yield of 47.4 bushels per acre. The corn quarterly stocks were down five per cent from a year ago, with soybeans stocks 13 per cent lower.
However, the big news in early January was a Black Swan event, the outbreak of the Corona Virus in China which sent all commodity markets reeling. March soybean futures have lost 89 cents since January 2.