Looking back
10 YEARS OF COMMUNICATIONS
In recognition of Grain Farmers of Ontario's 10th anniversary, Ontario Grain Farmer is talking to staff about the impact that the organization has made. This month we sat down with Victoria Berry, manager of communications at Grain Farmers of Ontario, to look back at communications initiatives over the past 10 years.
(OGF) WHAT IMPACT DID THE FORMATION OF GRAIN FARMERS OF ONTARIO HAVE FROM A COMMUNICATIONS PERSPECTIVE?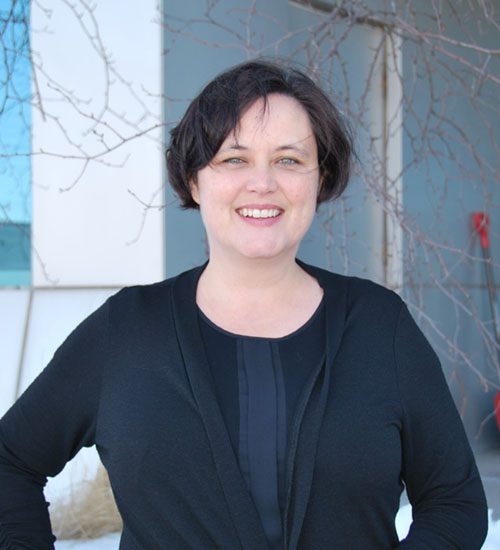 (VB) The amalgamation of the separate corn, soybean, and wheat organizations into Grain Farmers of Ontario created a stronger, singular voice to speak on behalf of grain farmers. We have been able to utilize this voice to provide a consistent message to farmer-members, the government, and the general public. Grain Farmers of Ontario has developed into a recognizable brand that is a trusted source for information and guidance. It's important to have a consistent message and clearly defined response to any issue — whether that is during normal operations or times of crisis. Bringing together the three groups, and then adding barley and oats, also gave us an influential voice in the industry.
WHAT DO YOU THINK ARE THE BIGGEST COMMUNICATION SUCCESSES FROM THE PAST 10 YEARS.
The communications department has two areas of focus, our farmer-members and the general public. Over the past 10 years we have evolved our communications strategy to meet the needs of both audiences. For farmers, print is still their preferred method of receiving information from us and we continue to produce the Ontario Grain Farmer magazine to meet this need. However, as younger farmers begin to take over the family farm, we are incorporating new methods of communication. Providing information through e-newsletters, e-mail, Twitter, and our GrainTALK podcast helps to keep farmer-members up to date on the work Grain Farmers of Ontario is doing in an accessible way. This is particularly important when Grain Farmers of Ontario is tackling tough issues on behalf of our farmer-members, such as new government regulations, disease pressures, and industry relations. We have been recognized by the Canadian Agri-Marketing Association twice for our crisis communication efforts: for keeping farmer-members informed on the neonicotinoid regulations and for our continuous updates during the DON in corn crisis.
The growth and success of the annual March Classic is also important to highlight. This has become the largest grain-focussed conference in eastern Canada and provides our farmer-members with an opportunity to gain insights from a wide range of speakers they may not otherwise have an opportunity to hear from. We have been fortunate to host Canadian icons Chris Hadfield and Rick Mercer, government leaders Joe Clark and Jean Charest, and business advisors Jolene Brown and Michelle Painchaud.
On the consumer side, the transition from Farmers Feed Cities to the grain-specific Good in Every Grain campaign was a significant milestone. There was a need to develop a program that could focus solely on the quality, uses, and consumer concerns about grain. Farmers Feed Cities was a popular campaign, but it encompassed all of agriculture and not many realized its connection to Grain Farmers of Ontario. Good in Every Grain has allowed us to focus our message and strengthen the relationship between consumers and grain farmers. We have run various campaigns to get our messages in front of consumers and we have had some great success by participating in non-traditional events. For example, we sponsor the Honda Indy and the Automobile Journalists Association of Canada conference to connect with people about ethanol and bio-diesel. These are great conversation drivers for us, and we will continue to look for events that give us unique opportunities.
WHAT DO YOU SEE AS THE PRIORITIES FOR GRAIN FARMERS OF ONTARIO IN TERMS OF COMMUNICATIONS FOR THE NEXT 10 YEARS AND BEYOND?
Keeping our farmer-members connected to their organization and communicating with them will always be our top priority, however we must also increase our efforts to connect with the public, particularly those in urban centres where there is often a limited or non-existent connection to agriculture.
For the past few years, Grain Farmers of Ontario has made it a strategic goal to develop a social license to farm. As consumer mistrust over modern farming technology and production practices grows, we must continue our efforts to build on the trust people inherently want to have in farmers. One of the most important things we have started doing, and will continue to build on, is to create a robust content and digital strategy. The truth is that the general public is making choices and confirming their opinions while on their phones — Googling answers to food and production questions, or learning by trusting mis-informed people on social media networks. Continuing to focus on programs that put correct information in front of people where they are – on their phones and tablets — will help us ensure that the general public has access to factual, good information and will make it easier to share that information.
Hear more from Victoria Berry about 10 years of Communications in this episode of the GrainTALK podcast. •