Growing demand for hemp
POTENTIAL NEW MARKET FOR GRAIN FARMERS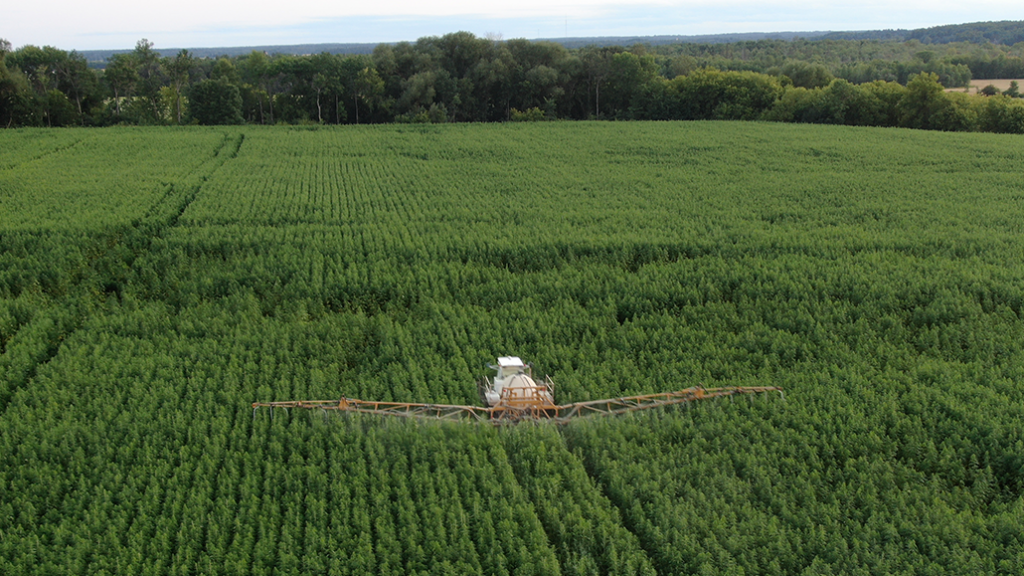 IT IS THE end of July, and Reuben Stone is standing in one of his hemp fields in eastern Ontario, near the village of Cobden. Stone grew his first hemp crop in 2009 and has gradually built a pedigree hemp seed business called UniSeeds with his wife Keanan, who also serves on the Board of the Canadian Hemp Trade Alliance (CHTA), and two business partners Marc Bercier and Dominique Lanoie.
"This year, we planted May 26, and right now it's 60 days later and the crop is 10 feet tall," Stone says. "Because each year I learn a little more and also with all the rain, it's probably the best crop ever."
UniSeeds sells seven hemp cultivars to customers in all Canadian provinces, but also to a few in the U.S., Australia, and Europe. These cultivars are mostly 'dual purpose' (both grain and fibre are harvested), but UniSeeds also now sells a couple of high-CBD cultivars (non seed-bearing) developed by its partner genetic companies. Most of UniSeeds' contract hemp seed growers are based in Quebec.
In terms of the crop's big picture in Ontario, CHTA president and CEO Ted Haney reports that total planted acreage was 3,200 in 2020 and it is basically the same this year. About a third of the 2020 acreage was reported to be for CBD production with smaller amounts for grain, fibre, and certified seed production.
However, as Haney points out, this reporting is incomplete in the sense that hemp is all about co-harvesting multiple parts of the plant for diverse end uses and income streams. Because of the ability to co-harvest, hemp is a lucrative crop, but its profitable even for Ontario farmers that only market grain.
Demand for the grain keeps growing, especially for organic. According to Haney, the national hemp crop is almost half organic. Consumers can't get enough organic 'Hemp Hearts' (de-hulled hempseed) and hempseed oil, which are both rich in Omega 3-6-9 heart-healthy fatty acids. The grain also goes into livestock feed export, and Haney also reports a very hot market in Europe for hemp as pet bird seed.
It is also an easy crop to grow, generally last seeded and last harvested. Both conventional and organic contracts in Canada specify limited use of in-crop protection products. The vast majority of hemp farmers do not use any products.
Although hemp can carry sclerotinia, it is not significantly affected by this fungus. However, it is not advisable to follow hemp with soybeans. There is some research that hemp can help supress soybean cyst nematode. In addition, some buyers advise growing hemp after a legume as there is then no problem with gluten allergens in the harvested grain; a potential for gluten allergens exists from wheat and barley volunteers.
Hemp acreage in Western Canada has grown steadily since production was approved in Canada in 1998. Markets and processing capacity were both limited then, and growers faced issues with combine wrapping and complex licensing requirements, but these challenges have all disappeared. Hemp farmers should have no combine issues as most designs changed about 10 years ago to accommodate the crop.
ONTARIO MARKET
All hemp currently grown in Ontario, says Haney, should be under contract for certified seed production, oilseed/grain processing, or fibre processing. Grain is shipped to food processors such as Alimentes Trigone in Quebec, Manitoba Harvest in Manitoba, or Hemp Production Services and Blue Sky Hemp Ventures in Saskatchewan.
Stone is getting 0.75 tonnes of grain per acre at his farm in eastern Ontario. "I harvest mid- to late-September, between cereals and soybeans in my rotation, and I plant fall wheat or rye as a cover crop," he explains. "It does require a nutrient level similar to corn, so get your soil tests done and give it what it needs." Weed control is advisable pre- and post-emergence.
And the fibre market, he says, has never been hotter. "We've had an incredible spike in inquiries for fibre varieties in the last 18 months," says Stone. "The demand for using it in building products and other applications is huge."
The fibre can be marketed to decorticators such as Eko-terre in Quebec, Canna Systems in Ontario, or a few U.S. companies. Decorticating is the first step in hemp fibre processing. This process removes the tough, woody interior (hurd), from the fibrous exterior of the stalk (bast).
Bast fibre can be used in insulation, erosion control mats, germination mats, and textiles, while hurd fibre can be used in products such as hempcrete, industrial absorbents, and kitty litter. Bast and hurd can also go into paper processing. Hemp fibre screenings can be pelleted for energy production, or the cellulose can be extracted from the screenings and used for explosives, paints, sealants, and other products.
Haney notes that fibre has risen from $60 tonne last year to $75 a tonne now, depending on factors such as storage conditions and cultivar. However, he cautions that some fibre buyers want the fibre to undergo winter retting, others want a dry fluffy fibre, and care must be taken to handle it correctly on farm to maximize profits. Haney therefore encourages new hemp farmers in Ontario to focus on grain production first and investigate how to maximize fibre payment as a secondary venture.
"The price for grain is great this year," he says. "Last year, conventional cleaned seed paid $1,200/tonne and this year it's $1,500. Organic has risen from $3,300/tonne to $3,500."
FIRST STEPS
Those who want to grow hemp in 2022 must go to the Health Canada website and submit an application for a growing license (Health Canada has also published an Industrial Hemp Licensing Application Guide). There is no cost to apply, says Haney, and he advises getting it done by December. Even if you don't grow hemp in 2022, the initial license will apply for three years.
Then, says Haney, spend time deciding if you want to be primarily a grain producer or if you would like to also harvest and market fibre, or if the CBD market is for you. Then, seek out a firm to get a contract in place before you buy certified seed. Many buyers have very specific requirements and will either recommend or sell their desired cultivars. Buyers also usually provide agronomy support for seeding, growing, harvesting, and storage.
As Stone has travelled the hemp road, he has seen the markets shift over time. There was a spike in interest for CBD extraction about three years ago, and interest in fibre is spiking now. In all, he believes that with all its advantages, hemp's future is bright in Canada.
GROWING HEMP FOR CBD
CBD is a phyto-cannabinoid (an organic chemical) that is also present in the cannabis plant.
CBD oil has quickly become an extremely popular treatment all over the world for pain relief, sleep disorders, and a host of other medical conditions. Research into CBD and other cannabinoids is now extensive.
CBD oil has also become a popular treatment for ailments in dogs, cats, and other animals.
Canadian Hemp Trade Alliance (CHTA) president Ted Haney notes that because the Canadian hemp markets for human food, pet birdseed (Europe), and fibre are very strong right now, acreage of hemp for CBD production is not expected to grow much in the near future.
He says Ontario probably has the highest current proportion of hemp for CBD of any province at this time. About 1,000 acres of hemp were grown in Ontario exclusively for CBD extraction in 2020 (last available statistics).
Harvest of hemp flowers (and the small surrounding leaves) for CBD requires a specialized production system. Flowers are harvested by hand, or with a dual cutter (scythe at bottom and swather head at the top). The chaff that can also be collected from the backend of the combine when harvesting hemp for grain later in the season is also generally rich in CBD, but currently, CBD extraction is focussed on harvest of the flowers and surrounding leaves as they contain the highest levels of the substance. •