Fertilizer pricing
POLITICS, HIGH DEMAND, AND SUPPLY DISRUPTIONS ONGOING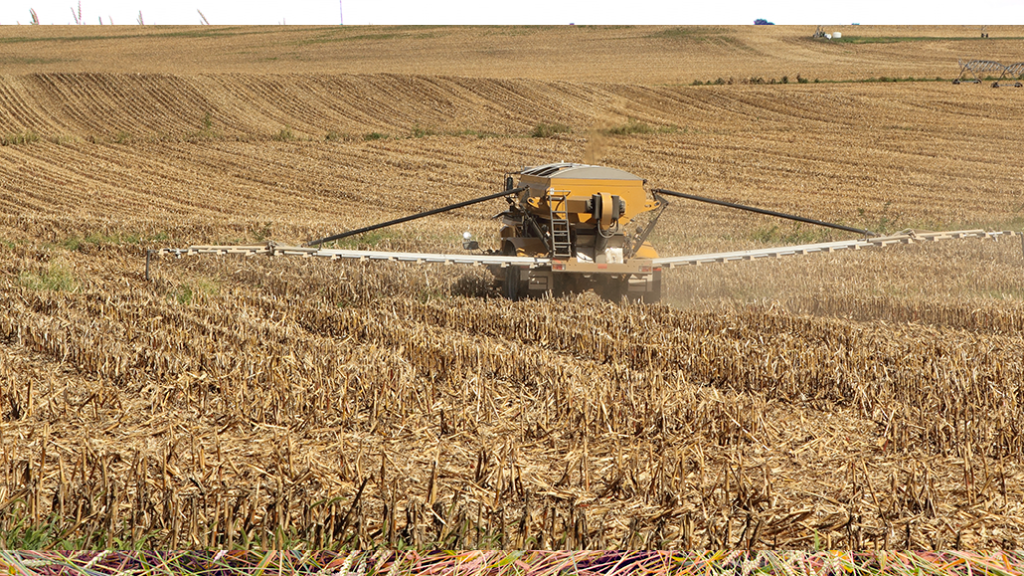 IF A TIME traveler appeared last summer to reveal what would happen to fertilizer costs over the ensuing 18 months, would we have believed them?
Likely not. Indeed, the traveler might have been laughed out of the room.
Such is the opinion of Josh Linville, veteran fertilizer market analyst and fertilizer portfolio director with StoneX, an American finance services network. During an interview this fall, Linville detailed how political machinations combined with a slew of other unforeseen circumstances to make the fertilizer market hot, sparse, and largely unpredictable.
A "PERFECT STORM" OF EVENTS
While the specifics of individual fertilizer markets have varied, Linville says the macro perspective indicates a shared starting and end place. Overall, the price of fertilizer inputs has gone from what were essentially historic lows, to historic highs since the summer of 2020. Where potash once stood around $300 per ton, for example, current costs are in the neighbourhood of $600.
The trend for potash and other fertilizers both coincided with, and was affected by, the rise in grain prices as farmers purchased more fertilizer to produce more grain.
Simultaneously, European supply issues pertaining to natural gas contributed to production drops in the nitrogen sector. Energy costs also continue to rise more widely.
Chinese policies shifted to prioritize domestic fertilizer needs via a total ban on phosphate exports — plus what has been described as efforts to reduce the country's greenhouse gas emissions — resulting in a 30 per cent reduction in global phosphate supplies.
Economic embargos on Russia enacted by the United States have constricted the supply of phosphorus.
Pandemic and natural disaster-related production and shipping delays continue — and so on, and so on.
Combined, these and other factors have produced what Linville describes as "one perfect scenario after another" or a "black swan event," and the reason insight from a time traveling or clairvoyant person could not have been believed. The impacts of embargos and other political decisions has and continues to throw-off the normal market mechanisms, making future predictions all but impossible.
For his part, Lenville says he now resists making any predictions more specific than general macro-level statements — if X and Y occurs, the price of specific fertilizers could move up, but if A and B occur, the price could go down.
Critical to it all is the ratio between fertilizer and crop prices. Though both are higher than last summer, the former has far outpaced the value of the latter.
DIFFICULTY OF 2022 BUDGETING
"The issue is growers are trying to plan even though this year isn't over. When you start seeing these price increases higher than your used to, it makes everyone more nervous with regards to what might come down the pipe," says Philip Shaw, an agricultural economist, farmer from the Dresden area, and author of Grain Farmers of Ontario's market reports.
"COVID has made it so it's difficult to know how this supply will be impacted…As of now, prices are a lot higher and projections are a lot higher, but its hard to know what it will be like next spring. For people putting crop budgets together for next year, it's a tall drink of water."
The fact that some fertilizer suppliers operate as oligopolies and virtual monopolies, says Shaw, makes it even more difficult to predict where the market will end up come the forthcoming growing season. Based on what was known at the time of this writing, it is very possible fertilizer will be higher in April and May of 2022. But like Linville, he reiterates reality might turn out differently — one potential factor being a drop in demand on the part of farmers.
"How much higher can you raise the price without demand dropping off?," Shaw asks.
STRATEGIC USE
With thinner profit margins, 2022 could be an ideal year for more strategic fertility plans.
Dale Cowan, senior agronomist and agronomy strategy manager with Agris Cooperative, says it might be possible for some farmers to "coast" high-fertility fields until input prices are more favourable. Improved variable rate application could also help save on inputs. But while he believes the forthcoming months are "a year to really up the management game," Cowan reiterates growers should not consider fertilizer availability and price until they know their budget, cash flow situation, and what their fertility needs are.
Supply issues stemming from a lack of shipping are hard to ignore, however, particularly in light of ongoing truck and shipping container shortages.
Cowan says Agris has not been experiencing major supply disruptions, due in part to the early ordering of product from suppliers. Indeed, significant quantities of fertilizer was in the process of being delivered to the cooperative as of the end of September. But in a situation where shipping is in such high demand, the lynchpin for farmers and ag-retailers alike will be whether product can be delivered quickly enough.
"There simply won't be enough trucks to move [crops] and fertilizer on the same day. The demand is very high. There are no breaks to get caught up," he says.
"Work with your supplier on detailed plans. Do it early and be prepared to substitute products. We need to plan everything, understand logistics, it's a good time to look
at your fields which are in the most need of nutrients."
The opinions expressed in this article are those of the commentators. •