Gifting a legacy
INVESTING IN RIDGETOWN CAMPUS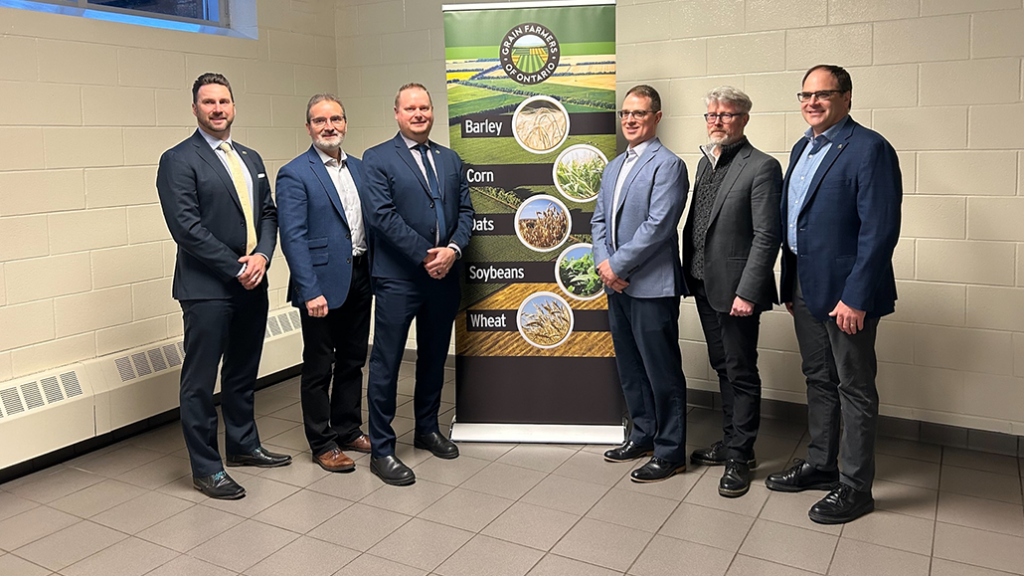 TAR SPOT, A fungal disease found in corn, was first discovered in the U.S. in 2015. Today, it has spread across the U.S. and in 20 Ontario counties west of Toronto. In less than a decade, this new disease has emerged as a leading cause for concern among corn growers, researchers, and the agriculture industry across North America.
"The emergence of diseases is a major threat to crops worldwide," says Dr. Malcolm Campbell, vice-president (research) at the
University of Guelph. Protecting grain crops from costly plant diseases, like tar spot, is the goal of a new $2 million gift to the University of Guelph from Grain Farmers of Ontario.
FUNDING TEACHING AND RESEARCH
The gift, announced at the Ontario Agricultural Conference on January 5, will fund a new Grain Farmers of Ontario Professorship in Field Crop Pathology at the University of Guelph's Ridgetown Campus.
"This funding support from Grain Farmers of Ontario is significant for farmers and farms across Ontario," says Brett Shepherd, Ridgetown Campus director. "It's critically important that we be proactive, not just reactive, in identifying and developing strategies against these pathogens."
"Field crops are the foundation of every food system in the world, and ensuring a focus on excellence in field crop research is vital to farming and the food security enjoyed by Canadians. Grain Farmers of Ontario recognizes the need for this position and supports the University of Guelph's ongoing commitment to understanding disease, crop resiliency and more," says Brendan Byrne, chair, Grain Farmers of Ontario.
The new professorship will focus on teaching at the undergraduate and graduate levels and engage in research and extension efforts to help mitigate the impact of costly plant diseases. Ridgetown Campus, first established in 1922 as the Southwestern Ontario Research Farm, has been home to a century of applied research, educational programs, and extension programming. Grain Farmers of Ontario's gift will help maintain the University of Guelph and Ridgetown Campus's leading expertise in field crop research and teaching.
"Ridgetown Campus has had a long tradition, and a proud tradition, of taking knowledge and moving it into action," says Campbell.
"The University of Guelph is an absolutely critical partner for Grain Farmers of Ontario," says Crosby Devitt, CEO, Grain Farmers of Ontario. "The Ridgetown Campus is … a place where an enormous amount of field crop research has happened over the past number of decades, and we see that as a critical place where we have really good infrastructure."
BUILDING ON A HISTORY OF PARTNERSHIP
"This gift is also a symbol in the importance of partnerships in achieving the university's mission of improving life," says Rene Van Acker, dean of the Ontario Agricultural College at the University of Guelph. "Through this support, we can recruit a top-notch new faculty member to support the ever-evolving needs of Ontario's farmers." A search is currently underway to fill the position.
Grain Farmers of Ontario has a long history of supporting University of Guelph and the Ridgetown Campus, including co-funding the Grain Farmers of Ontario Professorship in Wheat Breeding and Genetics.
The gift comes from the Grain Farmers of Ontario Legacy Fund, established in 2022.
Supporting research and extension is one of the goals laid out in Grain Farmers of Ontario's 2021 strategic plan. Investing in research, supporting innovation, and knowledge transfer to enhance farmer-members profitability and sector competitiveness is identified as one of the key pillars of the plan.
"Looking at a professorship like this, the things they will discover and the work they will do in the first few years will have a lasting legacy on the farm," says Devitt.
SOLVING BIG PROBLEMS
"There are fewer real-world problems greater than food security … and it is directly undermined by plant disease. By addressing plant disease through a professorship in field crop pathology, we're dealing with a major challenge around food insecurity and ensuring that we have productivity well into the future," says Campbell.
"What a perfect position to be a resident at Canada's food university, the University of Guelph." •