Single-use plastic recovery
OPTIONS FOR REDUCING IMPACT OF AGRICULTURAL PLASTICS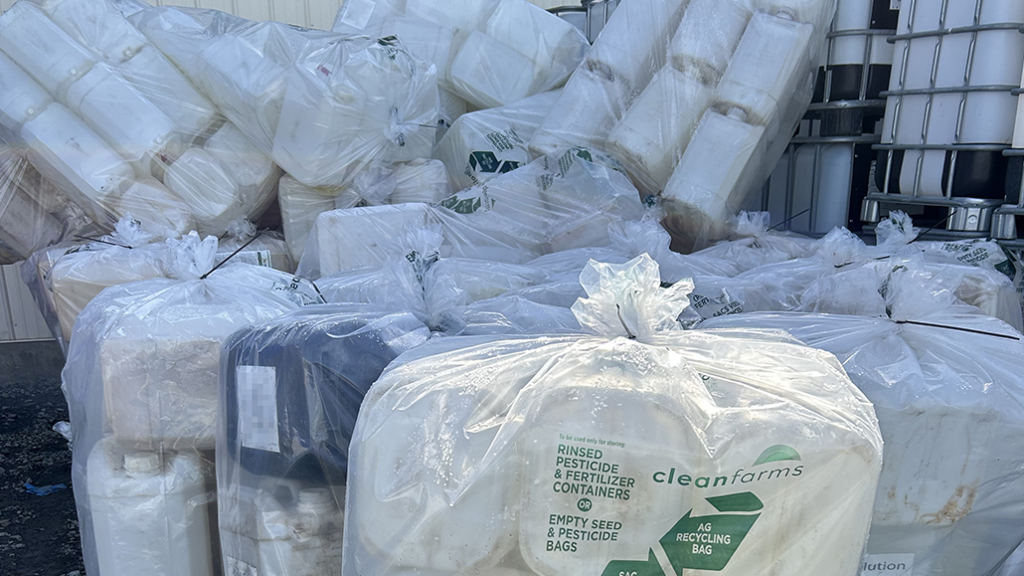 FARMERS RELY ON single-use plastics for crop production and protection every day, but as bans are enacted by governments worldwide on consumer products like plastic straws and grocery bags, many farmers are questioning whether items they rely on are at risk.
At this time, Barry Friesen, executive director of Cleanfarms, believes items like pesticide containers, seed, pesticide, grain and silage bags, bale wrap, and twine will continue to be available due to the effort the industry has made to recycle these items. "As long as we look after them appropriately, we are not likely to face any measures, like bans," he says.
SMALL CONTAINER RECYCLING
Cleanfarm's flagship small container recycling program operates from coast to coast. Recycling of other farm materials varies from province to province. With an over 90 per cent recovery rate for allowable materials in Ontario, Quebec, and the Maritimes, farmers have demonstrated a strong commitment to keeping these items out of landfill sites or other inappropriate disposal methods, like burning. Friesen believes some of the program's success is due to the long history these provinces have of household recycling programs, so farmers are accustomed to diverting plastics from the garbage bin. Nationally, the recovery rate is 77 per cent, which is considered very good for a largely voluntary program. According to Cleanfarms, in 2021, the total number of containers returned jumped to more than 6.2 million, approximately 700,000 more than were returned for recycling in 2020, an increase of 12.5 per cent.
Returning items is pretty simple. Farmers can return the clean containers and seed or pesticide bags to where they purchased the product. "Recycling our empty containers is easy," says Lanark County grain and beef farmer Don Badour. "I just triple-rinse them as I fill the sprayer, remove the booklet and toss them into a collection bag. Our supplier makes it easy by collecting them when they are delivering or picking up other items at our farm."
Friesen says the biggest obstacle to increased recycling is gathering enough volume of materials, and it is quite costly to collect and ship the empty containers, bags, and film to the recycler. They have pilot projects across Canada, including one in Bruce County, to collect baler twine, silage bags, bunker covers, and bale wrap.
While most programs are voluntary, regulations have been put into place in Quebec, Prince Edward Island, and Manitoba to recover a variety of plastics. At this time, no regulations have been proposed in Ontario.
Much of the recovered plastic is recycled into other plastic items such as tile drains, film, plastic fenceposts, and pallets, but Cleanfarms' goal is to create a circular economy where plastic containers are turned back into containers or grain bags into new grain bags.
ON-FARM INNOVATION
While there currently is not a collection program across Ontario for bale wrap or silage bags, Lynn Leavitt, a beef farmer from Prince Edward County and owner of U-Pac Agri Service, decided he needed to do something about the accumulation of plastic film on his farm. He designed and manufactured a compactor to compress bale wrap into bales weighing approximately 1,000 pounds that fit perfectly onto a standard-sized pallet. The compactor is very easy to use — farmers need to let the bags dry, shake off any dirt, and toss it into the compactor to be compressed.
Leavitt works with local farmers to collect enough bundles to fill a transport truck, relying on the cooperation of his local agriculture supply store to provide a loading spot and equipment. The bales are then shipped to a recycler in the London area. It takes approximately a year for participating farmers in his area to gather enough bale wrap to fill a load of roughly 45,000 pounds. He would like to see farmers in other areas of the province work together to fill truckloads.
After hearing about the compactor, Badour has ordered one for his farm to deal with their bale wrap and silage bags.
"We recently rented a dumpster to dispose of our accumulated plastic film. Unfortunately, it got wet and then froze in the dumpster before it was emptied at the waste transfer site, so it had to be unloaded by hand. Sustainability is important on our farm, so we would rather work with other farmers to see this material be recycled."
Leavitt works with Cleanfarms and has distributed several of the compactors in Quebec. He also sells the blueprints to farmers or municipalities to build their own.
Leavitt's hard work has been recognized by the Ontario Soil and Crop Improvement Association and the Hill Family, receiving the 2022 Don Hill Legacy Award for creative and innovative solutions to environmental challenges faced on the farm.
For more information on Cleanfarm programs, go to www.cleanfarms.ca.
DON HILL LEGACY AWARD
Generously supported by Ruth Hill and family, this annual award recognizes an individual farm business in Ontario that has successfully applied on-farm innovation and ingenuity to effectively address an identified environmental risk associated with soil, water, air, or biodiversity on their farm.
Don Hill was a soils and crops specialist for the provincial agriculture ministry before turning his full attention to the family farm in Grey County. Throughout this time, Don was a strong supporter of the Ontario Soil and Crop Improvement Association (OSCIA), serving as president in 1988. In the early nineties, when the concept of an Environmental Farm Plan (EFP) was being introduced to Ontario agriculture, Don worked with OSCIA to promote the program and train the workshop delivery team. His commitment has left an indelible mark on the tremendous accomplishments associated with the program. Don's passion for the EFP was widely known and admired. To him, the process was all about farmers sharing their experiences to support continuous learning and discovering best management practices. He took real satisfaction in finding simple and creative solutions to environmental challenges faced on the farm. Don's passion lives on through the Legacy Award that bears his name.
More information on the Don Hill Legacy award can be found at www.ontariosoilcrop.org. •