A leadership journey
AALP CLASS 19 VISITS GREECE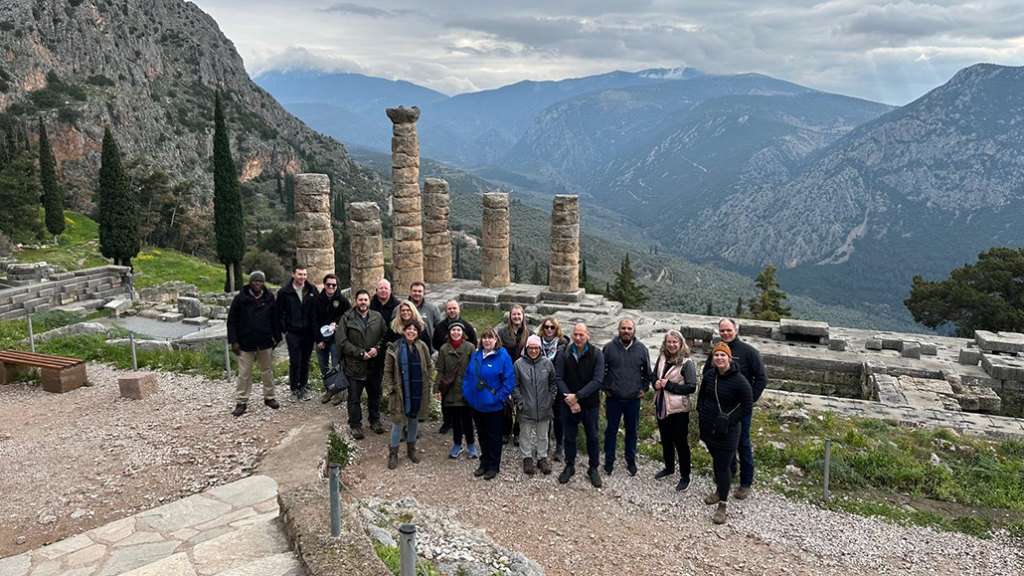 I TOOK AWAY many lessons from my recent experience with the Advanced Agricultural Leadership Program (AALP), but the one that is probably the most valuable was working with and learning from my AALP Class 19 classmates.
The program has been around since the mid-1980s, and its rigorous curriculum kept me engaged and involved for more than 15 months between November 2021 and March 2023.
The curriculum focused on leadership skills, figuring out ways to be more self-aware and able to truly listen to others while building productive relationships. These were foundational learnings to our later work around developing teams, problem solving, governance, economics, communications, learning, and much more.
In addition to the three-to-five-day in-person training sessions held in different parts of the province, we had Zoom seminars to reinforce what we were learning, and there were two study tours — one in North America and one international. We also split into smaller teams to do issues analyses and report back on our findings.
MAKING TIME FOR LEADERSHIP DEVELOPMENT
This was added onto my 'day job' in which I grow corn, soybeans, and wheat in Quinte West with my wife Janie and my four children — Michael, Rachel, Brian, and Charlie – who range in age from 17 to 24. We also do some custom farming and have an on-farm seed dealership.
I am also a vice chair of the Board of Directors for the Grain Farmers of Ontario and director for District 12 (Durham, Northumberland, Kawartha, Peterborough, Hastings). I was also appointed by the Minister of Agriculture to the vice chair position of the Grain Financial Protection Board, adding to a busy schedule. The solid support and encouragement from both my family and Grain Farmers of Ontario were crucial in allowing me to pursue my AALP studies.
I have been farming for 30 years and have always been interested in improving myself so that when I am called on to help in a leadership role, I will be the best that I can be. I have been fortunate in the past to be involved in skills development programs through Syngenta and Dupont (now Corteva AgriScience). Janie and I completed the American Soybean Association's (ASA) Young Leaders program together. I am currently a national director on the ASA Board of Directors, representing Canada.
I knew taking the AALP program would be a massive time commitment, but when I saw how many accomplished Grain Farmers of Ontario leaders had taken it, and how impressed they were with it, I wanted in.
THE ADVENTURE BEGINS
In late 2021, Class 19 gathered in Brantford for our initial session. I was so impressed by the diversity of the 17 people who made up our group. There were men and women, people who were young and older and from different ethnic backgrounds. While they all were connected to agriculture, they did not all come from farms, but also from agriculture business, the financial sector, and conservation authorities.
For our issues analysis project, I had the good fortune to work with two awesome classmates — Olivia Noorenberghe, a Master's graduate from the University of Guelph and Chris Sopuch, a vegetable farmer from the Holland Marsh. We delved into a SWOT (strengths, weaknesses, opportunities, and threats) analysis of the Ag Women's Network (AWN), with an eye to scaling the provincial organization to the national level.
We all learned a lot from the work. One of the main takeaways I had was that, not only should we be removing the barriers we know about to getting greater diversity into our organizations, we have to continually look for the ones we may not recognize. We presented our findings to Jen Christie, who was our group mentor and the founder of AWN, and I think we provided some useful advice and tools to move forward. We also broadened our own perspectives and gained a lot more knowledge during the process.
STUDY TOURS
While I was unable to attend the North American study tour that went to Washington, D.C. and New Orleans because of the wheat harvest at home, I was able, through my contacts in the ASA, to facilitate meetings with some U.S. industry leaders.
Over about 10 days in Greece in February, 2023, we learned about Canada's relationship with that country, toured several dairy processing facilities, and a huge market with fresh meat and produce. We also found out about Greece's marble and rice industries, as well as ancient ruins like the Acropolis and Delphi, the Mediterranean diet and culture, and all about the country's incredible olive oil industry. We also learned that you should "only drink the white wine when you run out of the red!" as a Greek professor so eloquently stated.
It was interesting to see first-hand the difference between here in Ontario, where we export a substantial percentage of our grains, and Greece, which often relies on imports. They have an entirely different infrastructure. We toured the Loulis flour mill in Athens, where for hundreds of years, grain has been shipped into the port. Having the mill on site means that the finished product is sent on to its final destination in bakeries, restaurants and other end users.
It is quite a different model from here, where most grain is taken to inland elevators and transported to mills in the cities or to ports where it is shipped to export markets.
Another revelation was how the olive industry has sustained itself over literally thousands of years. Some of the individual trees were 2,500 years old and still producing olives. If you want to learn about sustainability, getting lessons from one of the world's oldest civilizations is a good place to start!
During our study tour, class participants also had a lot of time to interact with one another, practice our public speaking and reflect on our learnings.
AALP'S VALUE
Which brings me back to my initial observation about the value of AALP.
The invited speakers were interesting and knowledgeable and the seminars were educational, as was exploring agriculture in other countries. But the most valuable learnings for me during my time with AALP Class 19 came from my classmates.
I got an opportunity to learn from people with a wide variety of backgrounds, whether they represented another commodity group, themselves, industry or a general farm organization. I got to know the humans behind the faces, and any differences we had seemed very small because we all shared a common responsibility to help each other become better leaders. The future of agriculture is in good hands with class AALP Class 19. •