Integrating Indigenous knowledge
NEW ENVIRONMENTAL SCIENCE DEGREE INSPIRES STUDENTS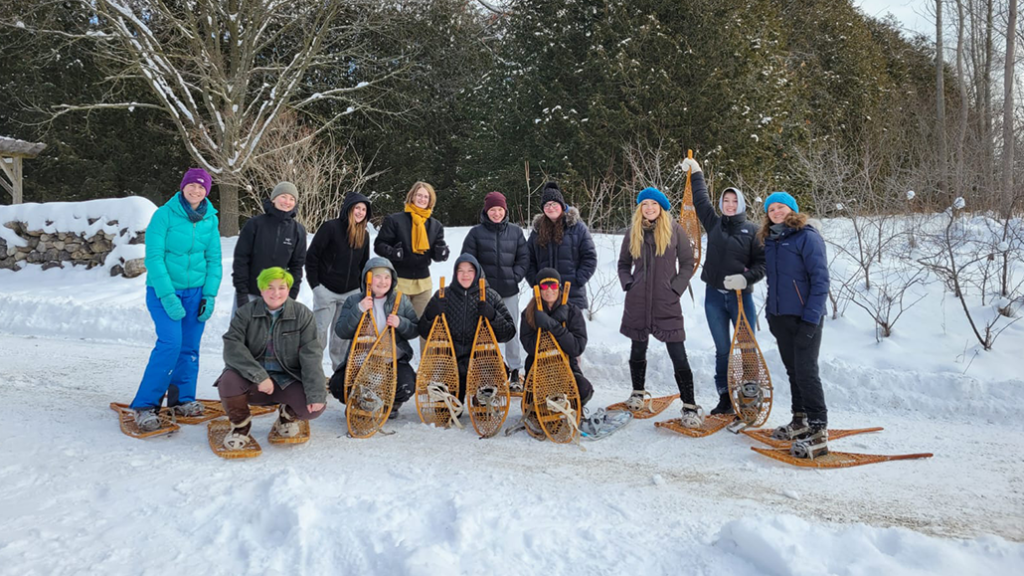 JESSICA PELCHAT BELIEVES our society can achieve a balance between respecting the land through traditional practices while applying Western science to feed the world. Such a holistic approach has been inspired by her enrollment in the University of Guelph's new Bachelor of Indigenous Environmental Science and Practice (BIESP) program that offers students a science-based approach to Indigenous and non-Indigenous practices.
The first in Canada, the BIESP program combines science and Indigenous knowledge for a one-of-a-kind degree. The first student cohort began in the fall of 2021 with five students. Now one of 16 students in the program's second cohort, Pelchat will enter her second year this fall and says the content and unique learning approach of the BIESP degree have blown her away.
In addition to science and environmental courses that develop a foundational knowledge of theoretical and applied aspects of environmental science, technology, management, land-use, and policy development practices, the program's courses are grounded in Indigenous ways of knowing and being.
"It's the experiential learning opportunities, learning firsthand from Indigenous knowledge holders and a general community-based approach to courses and lessons that make this program so impactful," says Pelchat, who previously studied sustainability at the University of Toronto and has been working in the sustainability sector for 20 years. Enrolling in the new program as a mature student was an opportunity for Pelchat to learn how to blend Western science with traditional Indigenous land management approaches and practices. "I'm most interested in regenerative agriculture and soil health and how we can enhance our knowledge to be more holistic in our everyday approach," she says.
WE ARE ALL CONNECTED
Dr. Susan Chiblow, assistant professor and member of the Garden River First Nations community near Sault Ste. Marie, Ontario, is one of four faculty members in the BIESP department. She teaches some of the Indigenous-based courses, including introduction to Indigenous knowledge and science. She says that not only is the enrollment in the new BIESP program growing, but students from other course streams are interested in taking the Indigenous courses as electives.
With an extensive environmental management and policy development background, Chiblow embodies the program's objectives of braiding together Indigenous and non-Indigenous teachings and practices. As a professor, she's emphasizing reciprocity and the responsibility of giving back after taking from the land and all beings, including agriculture practices that are centred around land and water.
"We are all connected through water, including agriculture and farming, and are responsible for water quality and quantity," says Chiblow, explaining that an Indigenous view of water encompasses the spirit of the water and the importance of respecting water for its ability to nourish everything, including ourselves, plants, and soil. "Without enough clean water, everyone and everything is impacted, including farmers who rely on it for their crops, the ability to harvest those crops, and the economics that come from selling the crop." Through the degree program, students are taught the Indigenous worldview on water and how to respect water in a more holistic and sustainable way.
Pelchat is eager to learn more about how reverence applies to land management and regeneration. "Everything is built around respecting what we have. What we're missing is reciprocity with Indigenous peoples and to the land," says Pelchat. "We need to give back to the land after we take what we need from it."
TWO LENS VIEW
"When we learn from both sides — Western and traditional science — we can build a more sustainable framework for our natural resources," explains Pelchat, who says one of her biggest takeaways from the BIESP program so far has been the ability to view problems through a double lens. Pelchat first read about this concept from Albert Marshall, a respected Mi'kmaq Elder and is adopting it into her own practices. "Through one lens, we can see problems through our Indigenous science knowledge, and through the other, we can see them through our Western science approach. By weaving these two competencies together, we can find new, more sustainable solutions to address issues like land use, managing soil health, and water quality."
While Pelchat is applying her expanded view and tools to her own land regeneration business, Wild Child Regeneration, in her home base of Durham, Ontario, she believes the same concepts can be applied on a larger scale to Ontario farms. "Armed with these new tools of integrating sciences, we can open doors to build partnerships with Indigenous communities who have so much knowledge to share," says Pelchat. "I hope this program can teach and inspire future leaders who can appreciate and apply a holistic approach to land management and agriculture."
Chiblow says it is expected students enrolled in the BIESP program will develop a new set of skills and tools that can be used to take an expanded approach to environmental issues. "Our society has created problems, and now we need solutions. An understanding of both knowledge systems is needed to develop environmental policies for a more sustainable framework." •