FARMERS ARE LOOKING FOR HELP TO BREAK A WORLD HARVEST RECORD
harvesting soybeans is usually an all-day affair that can last several days on any particular farm. But, a group of farmers are planning on speeding up that process this year. They plan on setting the world record for fastest harvest by combining 160 acres of soybeans in less than 10 minutes.
A committee of six farmers from Perth, Huron and Wellington counties have come together to make this record happen and raise some money for the Canadian Foodgrains Bank.
"We got the idea in January when we saw a Youtube video from Manitoba where they harvested a wheat field in nearly 11 minutes," says Randy Drenth, chair of the committee and Huron county farmer. "We're trying to beat that and set a new world record." (www.harvestforkids.com)
FIGURE 1. AERIAL VIEW OF THE RECORD BREAKING EVENT IN MANITOBA IN 2010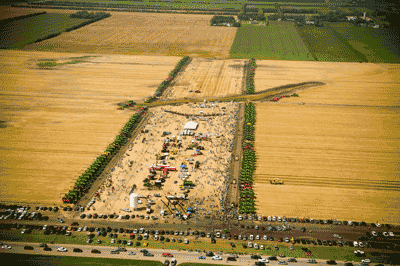 The Manitoba harvest took place in 2010 and they currently hold the Guinness World Record for most combine harvesters working simultaneously in one field. Drenth and his neighbours are going after a record for time, not number of combines, but to do that, they need some volunteers.
"We need at least 100 combines in the field, but 200 would be great," says Drenth. "So far, we have 13 signed up but we're just getting started."
The field of choice is a 240 acre field near Monkton of which they are planning to harvest 160 acres. "We need room to manoeuvre, so we've chosen a large field. We want to be able to run the combines straight down from both ends of the field so they meet in the middle," explains Drenth.
"We've been getting a lot of support from the community and the industry," says Drenth. Farm equipment dealers are working hard to get people involved and Drenth hopes the media attention will get people interested in bringing their combine to the event.
The soybeans harvested will be auctioned off and all proceeds will go to the Canadian Foodgrains Bank. "For people who have no use for buying a bushel of soybeans, there will also be an opportunity to sponsor a bushel for $20," says Drenth.  "Our goal is to raise $200,000," he continues.
The Canadian Foodgrains Bank is a partnership of Canadian churches and church-based agencies working to end hunger in developing countries. The Foodgrains Bank collects grain and cash donations and manages the procurement and supply of food commodities.
If you're interested in supporting the project by bringing out a combine or sponsoring a bushel, contact the committee at harvest4hunger@hotmail.ca or call Randy at 519-327-9504. •