A POTENTIAL FUTURE FOR ONTARIO SOYBEANS
NEW OWNERSHIP AND new management have saved a large-scale biodiesel facility in Welland, Ontario. After turning the lights back on in February, Atlantic Biodiesel established new supplier relationships and secured new customers, while catching up on maintenance and upgrading rail lines into the once bankrupt facility.
PHOTO: THE ATLANTIC BIODIESEL FACILITY IN WELLAND, ONTARIO.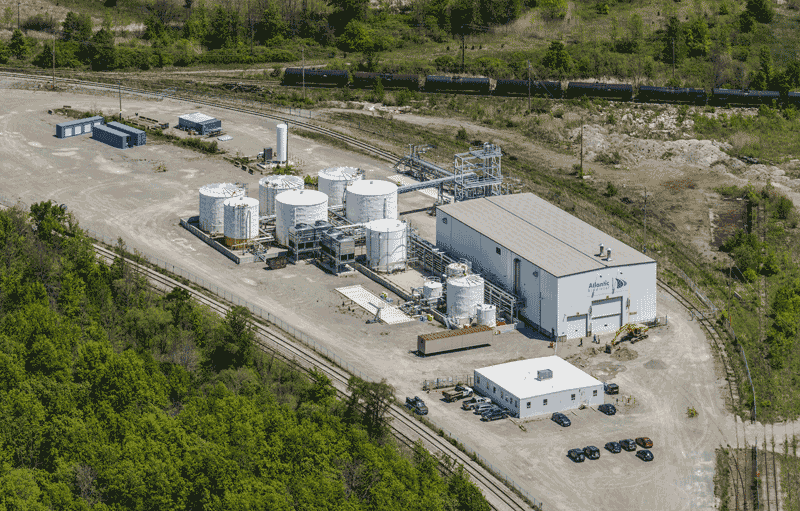 "Starting up a new business is always a challenge," says Michael Paszti, chief operating officer of Atlantic Biodiesel. "But we didn't have to start from scratch as the majority of workers were retained and that put us in a more advanced position than your typical start-up."
It took just over six months to begin full-scale production. Two feedstock tanks and three biodiesel tanks (one being filled, one being emptied, and one being tested at all times) ensure a steady flow of product to and from the rail cars and trucks that move through the site daily.
The facility has the ability to produce 170 million litres (45 million gallons) per year of clean-burning biodiesel and 15 million litres (four million gallons) per year of high-grade, kosher-certified glycerin (a co-product from the process). This makes Atlantic Biodiesel the second largest biodiesel producer in Canada.
THE PROCESS
Biodiesel is made by combining low moisture vegetable oil (canola or soybean is preferred) with methanol and a catalyst. The mixture is heated to 60°C at which point a reaction takes place that causes the biodiesel to float to the top of the tank and allows the glycerin to fall to the bottom. The biodiesel flows into a second tank where more methanol and catalyst are added before it is then moved through a cleaning and filtering process. The glycerin is also further processed before being shipped out for use in food, pharmaceutical, and chemical products.
Currently, Atlantic Biodiesel uses canola oil as its primary source of feedstock which Adam Amer, head of procurement and sales, sources from Quebec, Saskatchewan, and Iowa. However, they could use soybean oil produced from Ontario-grown soybeans if there was an adequate supply. Their facility, which processes five-and-a-half litres of oil per second, could use all of the soybean oil currently being produced in Ontario.
"If we can get farmers on board to produce more soybeans and there was an increase in crush facilities we would become a large local buyer," says Amer. "The variety of soybean doesn't matter to us as we only use the oil. The remainder of the soybean is an essential input for local feed mills that need the high protein meal."
"It comes down to economics — we will use whatever feedstock type is available at a low cost, but there is no reason why Ontario couldn't be competitive," adds Paszti.
SUBSIDIES AND INCENTIVES
Making the biodiesel is the easy part — finding a way into the Canadian fuel market is the real challenge.
"In the U.S. you have a lot of distributors who aren't associated with major oil companies and have eagerly adopted biodiesel, but in Canada it's hard for us to break into the marketplace," says Paszti. "We need help from government in order to grow our business. A five per cent biodiesel mandate would be great for our industry but what we really need is parity with U.S. subsidies — otherwise we have no choice but to go to the U.S. with our product."
Paszti says, logistically, consumers could see maximum value if biodiesel was made and used locally, and they would like to supply to local transportation fleets, farmers, and independent gas stations; however, he doesn't expect to see a change anytime soon.
"It will take years to have biodiesel as widely available here in Ontario like it is in the U.S. They're five to 10 years behind Europe when it comes to renewable fuels and we're five to 10 years behind the U.S."
However, even if the biodiesel isn't sold here, Paszti says there are plenty of benefits from producing it in Ontario. In terms of economics, the local economy in Welland is benefitting from both direct and indirect jobs, Atlantic Biodiesel is a core customer of a regional rail provider, and $100 million of feed oil will be purchased annually from provincial and national sources.
Environmentally, as Amer says, "you don't need to dig your fuel out of the ground, you can grow it." Part of their industry compliance is proving their use of a sustainable feedstock and accurate records need to be kept of the inputs used.
As a clean burning fuel, biodiesel can be used in homes and is 100 per cent compatible with current emission control systems for vehicles. In addition, Atlantic Biodiesel claims their production process is one of the most efficient in the country.
"For every unit of energy we put in, we get 99 units of energy back," says Paszti. "Very little energy goes into making this product which is unusual when you are talking about industrial processes in general."
CONSUMER CHOICE
Despite the advantages of biodiesel, and the support it receives from environmentalists, there is still some resistance to using the fuel in Canada. Paszti says the most common misconception he hears is the need for more testing.
"There have been countless studies and fleet trials in Canada dating back to over a decade and even longer elsewhere in the world. Many successful provincial, federal, and state mandates exist in North America which have resulted in emissions benefits equivalent to taking millions of vehicles off the road. Biodiesel is a safe, high-performance fuel."
"You can put our biodiesel on ice and it doesn't freeze," says Amer while noting Canada's largest biodiesel facility in Lloydminster, Alberta also manufactures a similar biodiesel.
For a more practical test result, he points to the New York Transit system which has been using biodiesel since 2009. Originally, they started with a two per cent blend but went up to a 20 per cent blend which is still in use.
"Consumers need to have the choice," says Paszti. "Even if you don't believe in the need to reduce greenhouse gas emissions or climate change, you should use biodiesel for its other benefits. There's no soil contamination if there is a spill, there are fewer odours, and with older diesel vehicles you can meet today's tighter emissions standards by using biodiesel."
Grain Farmers of Ontario recognizes the importance of the biofuels industry and would like to see the creation of a comprehensive national bio-economy strategy that supports innovation and provides opportunities for growth and for innovative uses of grains and oilseeds. With the federal election in October, Grain Farmers of Ontario is encouraging the new government to adopt comprehensive policy approaches to develop low carbon industries, such as the ethanol and biodiesel industries.
It's that kind of support that Paszti says is needed to realize the full economic and domestic market potential of their operation. For now, Atlantic Biodiesel is taking advantage of its ability to meet the demand of nearby American fuel markets. •