Beyond the field
GRAINS IN ACTION 2018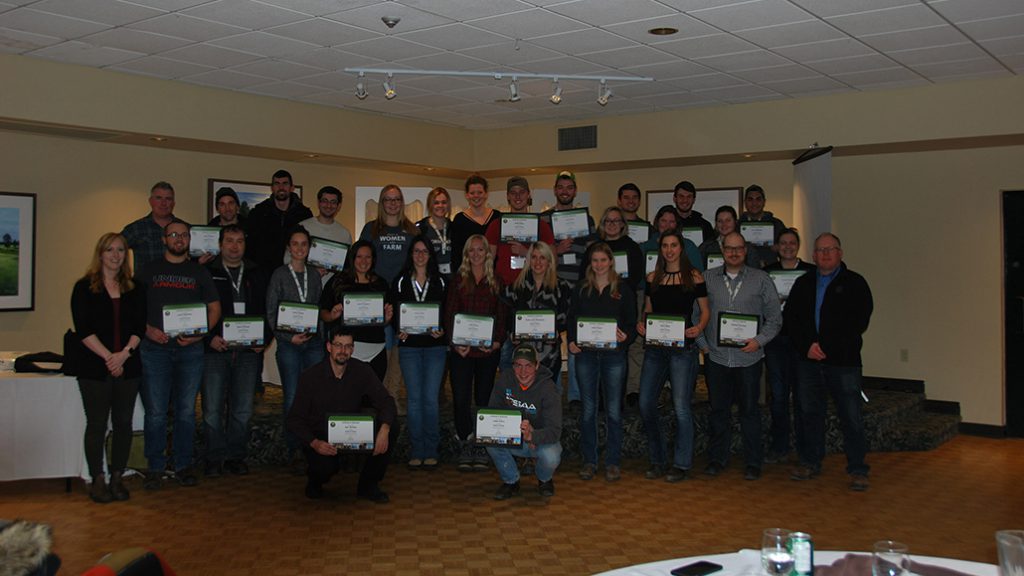 IN EARLY FEBRUARY, 28 young agriculture leaders spent four days expanding their knowledge of the grain value chain.
They attended Grain Farmers of Ontario's Grains in Action, a program that educates attendees on end uses and markets for Ontario grains. They travelled throughout Ontario to a number of processing and end use facilities.
"The Grains in Action course definitely exceeded my expectations. I have never been to a course that brought together so many young producers, students, professionals working in agriculture, government representatives, and others, all willing to learn more about the end use of grains," says Julia Struyf, manager of marketing and communications at Bioindustrial Innovation Canada and a participant in the 2018 Grains in Action program.
Just as significant as the learning portion of the tour is the opportunity to network. This program encourages young professionals from a variety of backgrounds to network with one another and the industry professionals they meet throughout the tour.
"The tours were great, and presentations highly informative, above all, the large cross section of participants including industry, government, students, and farmers made the social time just as impactful," says Gus Ternoey, a farmer from Tilbury and the class valedictorian of the 2018 program.
WORKING WITH INDUSTRY PARTNERS
Day one of Grains in Action started with an introduction to Grain Farmers of Ontario by Mark Brock, director for District 9 (Perth) and Board chair at the time of the program, and Crosby Devitt, vice president of strategic development. Industry partners from Agricorp, Agriculture and Agri-Food Canada, the Ontario Ministry of Agriculture, Food and Rural Affairs, and the Ontario Farm Products Marketing Commission spoke on how these organizations work with Grain Farmers of Ontario and the wider grain industry.
"This is Grain Farmers of Ontario's first chance to reach out to the next generation of farmers and agriculture professionals to let them know what our organization is all about," says Steve McCabe, manager of member relations for Grain Farmers of Ontario. "This is also the first time for many of the participants to see where their grains and oilseeds go once it leaves their fields. They get an understanding of how they are used in the production of feed, ethanol, beer, whisky, and ultimately how their grains are shipped out to feed the world."
Wellington Brewery started off the evening with a beer tasting. This presentation and tasting made connections between Ontario grains and the craft brew industry.
This led into a new stop on day two of the Grains in Action tour — Harvest Hop & Malt. Participants learned about malting grains for use in beer and spirits, and the value added opportunities malting offers to farmers.
"This was an excellent opportunity to observe the "post production" world of grains and gain a better understanding of the off-the-farm world of agriculture," says Ternoey.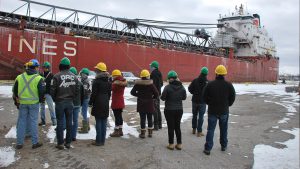 The second day wrapped up with a stop at Cargill Sarnia grain terminal for a tour and talk. Participants learned about export and domestic markets for Ontario grains, as well as the impact of supply and demand.
"Growing up on a farm, I still found it very interesting to see where farmer's grains go and how many steps in between there are before it meets the market. You could really feel the passion of Canadian agriculture in this course. This made for easy networking, and made the three days really worth my while. I would highly recommend this course to young leaders in the agriculture industry," says Struyf.
The third day of the tour was action packed with a stop at ADM Agri-Industries in Windsor, Ont., a whisky tasting and tour at Hiram Walker, a meet and greet with researchers at Ridgetown Campus, and a discussion about public trust with Amy Matheson of Farm and Food Care.
"The importance of our role and responsibility to communicate about grain farming to the non-farmers in our society was highlighted. Anyone looking forward to a future in agriculture would benefit greatly from this program," says Ternoey.
The final day began at Wallenstein Feed before returning to Guelph for presentations by Grain Farmers of Ontario staff on research, government relations, and the communications department. The day wrapped up with a valedictorian speech, certificates, and final words from the Grains in Action organizers. This was also a chance for participants to ask questions about Grain Farmers of Ontario and learn of the other opportunities available to them in agriculture.
"My experience was very positive. The conference had a well-rounded itinerary to engage all individuals. It provided networking opportunities with leaders and peers. The selected tours were very informative and were unique tours that I wouldn't normally be able to partake in," says Kristy-Anne Wytenburg, an accountant at MNP LLP who grew up on a family farm in Renfrew County.
WANT TO GET INVOLVED?
Grain Farmers of Ontario hosts Grains in Action annually, and the Womens' Grain Symposium and the Grains in Action alumni event are held on alternating years.
"These programs are where we get to cultivate new relationships — as an organization — to get the next generation involved," says McCabe. "Grains in Action is our succession plan to ensure that young farmers continue to be engaged with our organization. Six of our 15 directors have gone through the program since its inception — and almost 30 per cent of our 150 delegates are past participants. We think this shows that the program is working."
If you are interested in attending the 2019 Grains in Action or would like to recommend a young agriculture leader for the program contact Steve McCabe at smccabe@gfo.ca or 226-979-5581. •