Cropside: Pre-harvest assessment
AGRONOMIC INFORMATION FROM ONTARIO'S CROP SPECIALISTS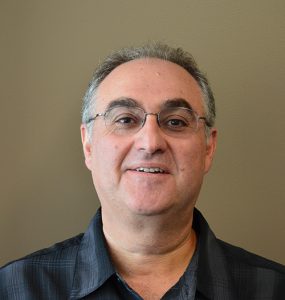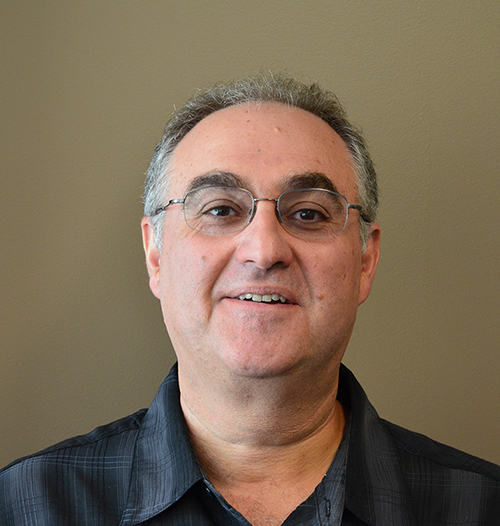 UNFORTUNATELY, AS MANY of you found in 2018, Gibberella ear rot and of course the mycotoxin deoxynivalenol (DON) can significantly impact not only producers but the entire corn value chain. As you plan to harvest corn this fall, what can you do to determine your risk? Start by scouting for ear rot diseases at kernel maturity (black layer) and just before harvest, especially those fields which were planted late, under stress, or a very susceptible hybrid was planted. This pre-harvest assessment can alert you to potential problems as well as provide time for livestock producers to segregate, obtain alternative grain, or hold onto low DON stored corn.
GIBBERELLA EAR ROT
The most common and important ear mould in Ontario is Gibberella zeae which is the sexual reproductive stage of Fusarium graminearum.
Infection often begins at the ear tip and moves down towards the ear base.
Although the fungus can produce a white-coloured mould which makes it difficult to tell apart from Fusarium Kernel Rot, the two can be distinguished easily when Gibberella produces its characteristic red or pink colour mould.
Toxins produced by Gibberella include Deoxynivalenol (vomitoxin or DON), Zearalenone (ZEN), and T-2 toxin. If grain is to be used for feed, a mycotoxin test is recommended.
Reducing toxin levels through combine adjustments and grain cleaning is difficult.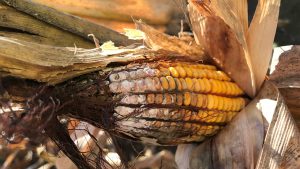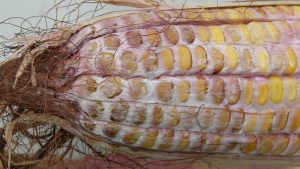 Scouting practices are similar for all corn ear rots and a quick method is to select 50 to 100 plants across the field (10 to 20 ears each from five different areas). As many growers found last year, checking one area (often near the headland) will not be representative of the field. With all the plant variability this year, it is critical to sample from multiple locations. For each ear, be sure to peel back the husks and examine the entire ear. Fields with 10% or more of the ears with significant mould growth, should be harvested sooner than later.
Leaving diseased grain in the field allows the ear rot fungi to keep growing, which could increase the risk of mouldy grain and mycotoxin contamination. Most ear rot fungi continue to grow (and potentially produce mycotoxins) until the grain has less than 18% moisture. In severely infected fields, it may be necessary to harvest grain at higher moisture and then dry it to less than 18% to minimize further mycotoxin accumulation. However, as farmers experienced in 2018, that isn't always possible. In that case, keeping infected grain separate is important to keep your marketing options open.
If a field contains a significant level of ear mould, collect a representative sample at harvest and have it tested for mycotoxins before storing the grain or feeding it to livestock. A mycotoxin test is often the only reliable way to definitively diagnose an ear rot or mycotoxin.
For additional corn and disease management information visit the Crop Protection Network (https://cropprotectionnetwork.org/) or Field Crop News http://fieldcropnews.com/. •