European journalists tour
A SUSTAINABLE FARMING SHOWCASE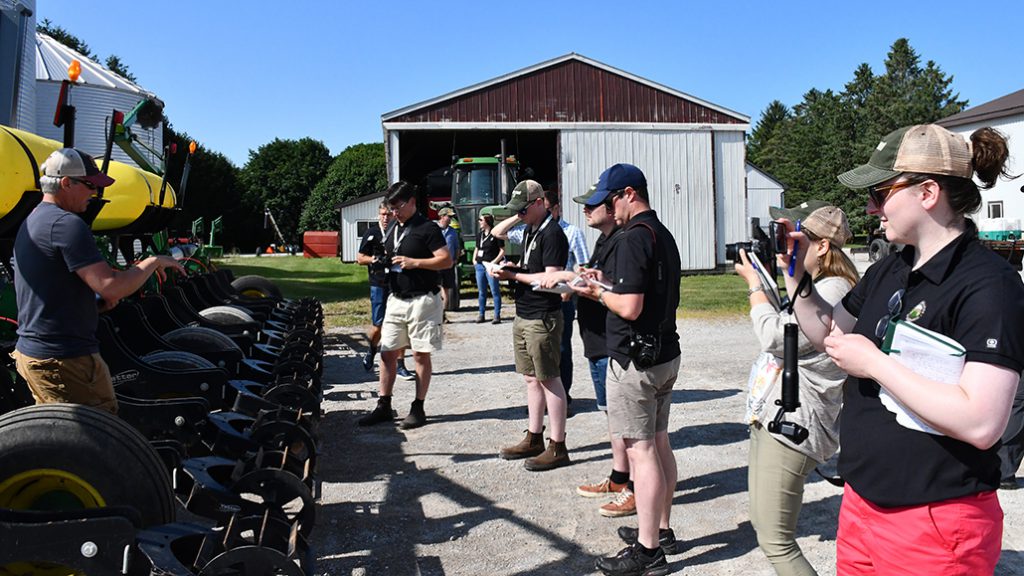 ONTARIO GRAIN FARMERS use farming methods that ensure the economic, social, and environmental fundamentals of sustainable agriculture. It's an important story to tell, particularly to those in key export markets where sustainability is tracked across the entire value chain.
In Europe, one of the largest markets for Ontario grains, sustainability is a key focus with many companies making public declarations regarding sustainable sourcing.
"Europe is a very important market for Ontario grain, with more than one million metric tonnes of Ontario grain being exported there each year," said Nicole Mackellar, manager of market development for Grain Farmers of Ontario.
Over the past four years, corn exports to the European Union (EU) have doubled, thanks in part to the removal of tariffs with the implementation of the Comprehensive Economic and Trade Agreement. This is important as higher corn yields are beginning to result in larger surpluses than what our domestic markets can utilize. Historically, the EU took a consistent amount of commodity soybeans, however, this market has been disrupted as a result of the U.S. – China trade war.
"While we did see the majority of our soybeans going into China this year, we don't know what the trade situation with China will be like moving forward and we want to ensure we have open and free access into our other critical markets, such as the EU," said Mackellar. "With their focus on sustainability we want to make sure they are aware of the initiatives we are involved in and the commitment Ontario farmers make to sustainable agriculture practices."
MISSION BRIEF
Number of journalists: 7
Publications represented: Editorial Agricola Espanola, Farmers Guardian, Akkerwijzer, Agriland News, Irish Farmers Journal, Nieuwe Oogst, Farmers Weekly
Countries represented: Ireland, Spain, United Kingdom, Netherlands
Farm tour stops: Cribit Seeds, Shepherd Creek Farms, Pallister Farms, Barlow Farms
A NEW APPROACH
In order to raise awareness about Ontario-grown grain with those involved in the procurement of feed within the EU, Grain Farmers of Ontario hosted an Incoming Journalist Mission for seven members of the European agricultural media focused on sustainable farming practices.
"We know that the EU is not able to be self-sufficient when it comes to their protein needs," said Mackellar. "We want Ontario to be looked at as a great secondary supplier to domestic production."
Working with journalists was a different approach than the usual promotional work that is done within an importing country with the goal to bring longer lasting exposure. In addition to the 16 news articles written while the journalists were on tour, several features were planned for release in the following months.
The three-day tour included informational sessions on the role of Grain Farmers of Ontario, the Ontario Ministry of Agriculture, Food and Rural Affairs, University plant breeding programs, sustainability programs, and technologies such as GMOs. These conversations gave a big picture view of the different players within the agriculture industry and how they all work together. Farm visits gave the journalists an opportunity to see how technology is utilized to implement sustainability practices in the field.
IN THE FIELD
At Cribit Seeds, the journalists learned about the role field trials play in the development of new seed varieties, the niche focus the company has established on oats and barley, and their process for applying seed treatments to grains. Cribit, through the Wintermar Grains portion of their business, also operates a food grade processing facility which supplies roasted and flaked grains to local craft brewers and soup and baking manufacturers. Several questions were asked by the group about the use of insecticides, the risk for crop loss, and the difficulties of bringing new seed varieties to market.
Cribit Seeds has an open-door policy for anyone interested in learning more about their operation — they welcomed our European journalists, hosted their annual open house, and provided a tour for a group of agronomists from Brazil all within the span of about a week.
"We are very proud of the operation we run here and we are passionate about spring cereals here in Ontario. People don't necessarily realize the effort we put into the crops, working with the breeders and the plots that we grow," said Julia Thompson, seed sales and marketing manager for Cribit Seeds. "I was excited to have people from the EU here because they have more investment in their spring cereals than we do here."
Mark and Sandi Brock, operators of Shepherd Creek Farms, are using technology and sustainable farming practices to meet their soil health and soil quality goals.
They use cover crops to increase soil organic matter, utilizing a multi-species mix. However, Mark explained that just oats or something simpler will work just as well. The cover crops help to increase the breakdown of corn stalks which has allowed them to transition to no-till for soybeans (they use strip till for corn and edible beans).
"You have to find a system that works for you, based on your soil. Our system works for us, but that doesn't mean it will work for you," Mark noted.
Mark is also using imaging to develop variable rate fungicide maps that allow him to shut off the sprayer in parts of the field that don't need it. He is refining his system to allow for more accurate section control, but already he sees a 20 to 50 per cent reduction in fungicide use. Mark has also connected their sprayer to an iPad to record when and what product they've sprayed in any given field.
"We are trying to document more of our management decisions so that we can meet sustainability audits," said Mark, while also noting that they weigh any sustainability practice for its economic factor.
Economics and managing risk also played a role in their decision to diversify into the sheep industry in 2012 and Sandi now manages their flock of breeding ewes for the production of market lambs.
"There are a lot of synergies with the sheep and crop aspects of our farm," said Sandi. "We also have better cash flow, risk management, and environmental health."
The European journalists were interested to learn about how the different aspects of the farm contributed to sustainable production while also ensuring profitability. It was a good showcase of how one doesn't have to be sacrificed for the other.
That synergy was also noted at Pallister Farms, a crop and cattle operation that participates in the Ontario Corn Fed Beef program. They grow corn for feed and winter wheat to have a ready supply of straw for bedding, as well as barley, edible beans, and hay.
"I think the industry in Ontario has a lot to be proud of. Beef farmers and others in the industry, don't let people know how we are being proactive about a lot of the things when it comes to the environment and sustainability and our carbon footprint," said Dale Pallister. "We have a good story to tell and I think we are going to have to tell it more than we have been in order to stop some of the negative reactions we sometimes have."
At Barlow Farms, both the economics of sustainability and the management of different crops were highlighted during the tour and talk with Jeff Barlow,
"Farmers don't inherently want to wreck their soil. I just don't know any farmers that aren't trying to be sustainable in some way," said Barlow. "A lot of what we do on our farm is because it is good for our business or to protect the soil."
And those farming principles also happen to be good from a sustainability standpoint.
He utilizes crop rotation and cover crops such as red clover and oats to improve soil health, variable rate fertilizer applications to reduce unnecessary use, and bigger tires at the lowest possible air pressure to reduce compaction in his fields. Barlow is challenged by the heavy clay soil in the fields he farms, which impacts how he works the ground.
"In heavy clay, we need to plow or rip in the fall in order to be able to plant corn in the spring, but we don't use tillage for soybeans or wheat," said Barlow. "We have to make sure it makes sense to till economically and from a soil health perspective."
Barlow's crop rotation includes corn, non-GM soybeans, GM soybeans, and wheat. The EU journalists were interested in how Barlow is able to keep his GM and non-GM crops segregated, why he has chosen to grow both, and the challenges he faces.
Barlow noted that the restrictions on herbicide use with non-GM crops makes it more difficult to control weeds but there is a good market for non-GM soybeans in Southeast Asia. Technology has made it easier for him to track which crops have been planted to each field, when they were planted, and what applications have been made.
The journalists were left with a sense of the dedication Ontario farmers have to sustainability and how our farmers are continually working towards making their operations better. The U.S. is doing a lot of promotion to the EU about their own sustainability practices and Mackellar feels this tour, and the press it generated, helped showcase the commitment our farmers have to producing sustainable quality crops for international markets.
This project was funded in part through the Canadian Agricultural Partnership (the Partnership), a federal-provincial-territorial initiative. The Agricultural Adaptation Council assists in the delivery of the Partnership in Ontario. •