Maintaining markets
2019 OUTGOING PROGRAM TO THE EUROPEAN UNION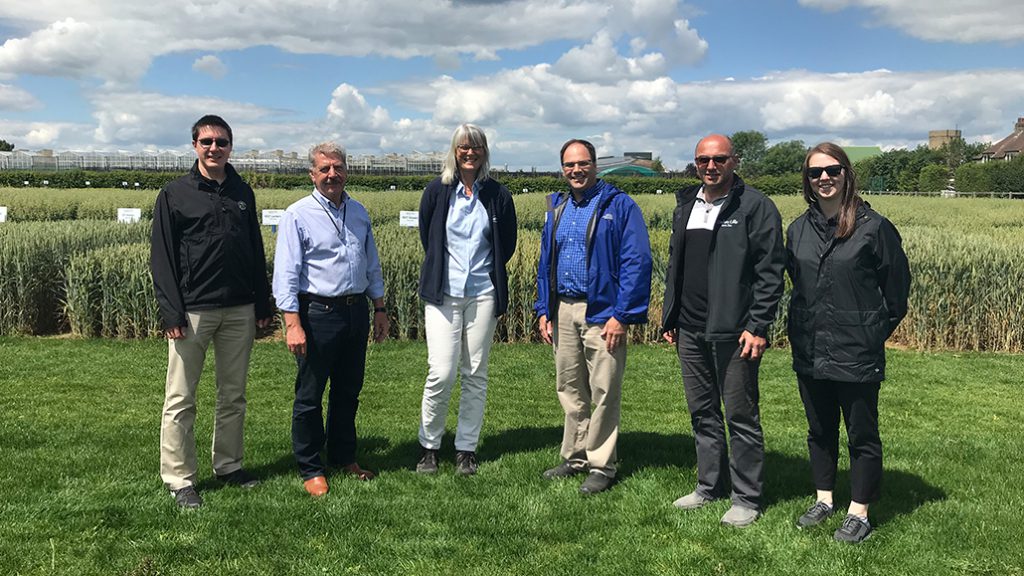 WITH INCREASES IN production occurring year over year and domestic markets becoming fairly saturated, international trade is becoming even more important for Ontario grains. If there is anything this past year has taught us though, it is how volatile trade can be.
Prior to 2018, the European Union (EU) represented the largest market for Ontario commodity soybean and corn exports. While it continues to still be the largest market for Ontario corn exports, we have seen soybean exports drop. This is in large part due to the ongoing trade war between China and the U.S. and the majority of Ontario soybeans now going to China. The U.S. has also been very active in the EU, promoting the sustainability of their crops as a way to gain further market share.
With increasing political tensions occurring between Canada and China it is important to ensure Ontario is still seen as a top supplier in other key markets. To help increase the awareness of Ontario grain and continue building relationships in the EU, Grain Farmers of Ontario conducted a trade mission to Brussels, Belgium, and the United Kingdom. The objective of the mission was to provide information to key organizations and end users on the quality and sustainability of Ontario grain.
GAINING INSIGHT
The mission included meetings with agriculture organizations including Canada's Mission to the EU, the European association representing trade, EuropaBio/European Crop Protection Association, the European feed manufacturers association and the European crusher association.
The meetings provided the opportunity to gain further insight into the political state of the EU, key issues facing imported commodities and areas where there are opportunities to share the story of the quality and sustainability of Ontario grain.
The EU continues to be a very complex environment with politicians often influenced by the opinions of consumers and activists. This can be very challenging for agriculture as science is often not looked at.
Biotechnology continues to be a hot topic with many discussions around its continued use and the importation of biotechnology crops. The use of crop inputs is also gaining a significant amount of traction with many EU member states indicating their intentions to ban key products such as glyphosate. Organizations such as EuropaBio and the European Crop Protection Association continue to advocate on the importance of biotechnology and inputs for producing high quality sustainable crops. Grain Farmers of Ontario supports their initiatives and will continue to work with them to ensure Ontario grain can continue to have open and free access to the EU market.
While there are many challenges in the EU, there are also a number of opportunities, including sustainability. This continues to be a top focus for both consumers and politicians across all of the EU. The main focus is around deforestation and wanting to ensure products are made from commodities that are not contributing to deforestation. This largely stems from concerns around the cutting down of the Amazon in South America. In Ontario we have a great story to tell when it comes to sustainability and we will to continue to work with key organizations within the EU to share information on the work we are doing and the commitment our farmers are making to sustainable agriculture practices.
NEW OPPORTUNITIES
The United Kingdom (UK) represents a unique opportunity for Ontario. Logistically it is one of the closest international markets to the province. Historically we have not exported a significant volume of grain directly into the region, however, those volumes have been increasing over the past couple of years.
With BREXIT there could be new opportunities that arise; what they will look like is still to be known but Ontario could be well positioned to fill roles previously held by other countries. There is recognition in the UK that they will not be able to be fully self-sufficient in protein feed needs. Ontario and Canada are also looked at very favourably for producing high quality grain. With our close proximity to the region this could lead to further opportunities for Ontario grain.
International trade development and having open and free access to markets is a top priority for Grain Farmers of Ontario. We will continue to work with our industry partners as well as our Trade Commissioners posted abroad to identify new market opportunities for Ontario grain and to ensure we are seen as a top supplier.
This project was funded in part through the Canadian Agricultural Partnership (the Partnership), a federal-provincial-territorial initiative. The Agricultural Adaptation Council assists in the delivery of the Partnership in Ontario.
Nicole Mackellar is the manager of market development for Grain Farmers of Ontario. •