Provincial priorities
Q&A WITH DOUG FORD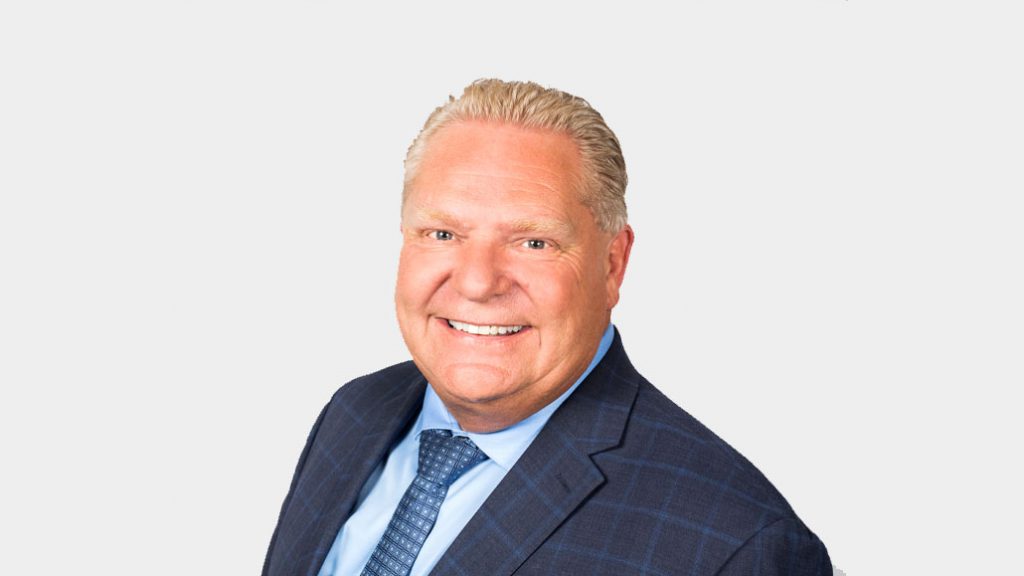 ONTARIO GRAIN FARMER extended an invitation to the Premier of Ontario to answer questions about the important issues facing Ontario grain farmers. Here is the response we received from Doug Ford, Premier of Ontario.
Grain and oilseed farmers in Ontario need the Ontario government to advocate on their behalf with the federal government for three priorities. How will the Ontario Progressive Conservative government support ontario farmers to address these three priorities?
BUSINESS RISK MANAGEMENT (BRM) PROGRAMMING THAT WORKS FOR FARMERS
Ford: I know 2019 was a tough year for grain farmers in Ontario. A cold, wet spring delayed planting and the CN strike delayed drying operations in the fall. Within days of the strike, I met with Prime Minister Trudeau and urged him to settle the strike so our farmers had access to the propane they needed to dry their grains.
Ontario knows how critical Business Risk Management programs are for farmers, especially in difficult years. That is why the province continues to advocate for change at the national table.
Ontario is a national leader in providing business risk management support through the provincial Risk Management Program (RMP), which helps address gaps in support within the national suite of programs. My government is looking forward to continuing to work with the Grain Farmers of Ontario to continue improvements to RMP.
My government heard from farmers that one of the challenges with AgriStability was the complexity of enrollment. That's why we are supporting a pilot project for farmers to use their tax return information to make it simpler to enroll in AgriStability. Our government will work with our delivery agent Agricorp and the federal government to implement those changes.
We strongly support the need to look at further options for improvements to AgriStability when Provincial Agriculture Ministers meet in July 2020, in Guelph, Ontario. I know Minister Ernie Hardeman is working with his federal counterpart and other provincial agriculture ministers to improve the national BRM programs to ensure they work as they were intended.
COMPENSATION FOR SOYBEAN FARMERS WHO HAVE SUFFERED FROM TRADE DISRUPTIONS
Ford: We sympathize with farmers and understand the adversity they face often dealing with risks beyond their control such as weather, pests, and trade issues.
My government also recognizes the significant economic and job contributions of the grain sector — of which soybean is our top cash crop — to the province. I, my agriculture minister and my government stand with Ontario's farmers, including grain producers, who are concerned about the impacts of ongoing trade tensions.
That's why we're working on several initiatives with Ontario's grain sector to help bring stability and growth. For example, we launched the new Market Access Initiative last year, through the federal-provincial Canadian Agricultural Partnership to provide funding to assist Ontario's food and agri-product exporters in accessing new markets impacted by trade challenges.
At last year's International Plowing Match, I was proud to announce that my Agriculture and Economic Development Ministers Hardeman and Fedeli would lead a trade mission to Japan and South Korea to develop new markets for Ontario agri-food products, including soybeans. I appreciated Grain Farmers of Ontario's hard work in promoting their commodities and Ontario agriculture during the trade mission.
My government is committed to urging the federal government to provide a robust response to current trade challenges and work with soybean and other affected agri-food sectors to support their viability and long-term success.
RELIEF FROM THE CARBON TAX ON FUEL USE FOR DRYING GRAIN
Ford: Ontario remains committed to fighting against the federal carbon tax, which is making life more expensive for Ontario's hardworking individuals, families, and businesses.
Last year, Minister Hardeman and I met with several farmers in Oxford Country concerned about how the carbon tax is going to negatively impact their businesses. We know the carbon tax is going to raise the costs of producing food which will ultimately lead to higher costs for food in the grocery store; costs we know families can't afford.
In June 2019, we were disappointed to learn that the Ontario Court of Appeal did not accept our position that the federal carbon tax is unconstitutional. That is why Ontario filed an appeal of the decision to the Supreme Court of Canada at the end of August 2019.
I am opposed to a carbon tax that drives up costs on the family farm for activities such as grain drying and transporting grains to market using non-farm vehicles. We continue to press the federal government on this matter and encourage impacted stakeholders to continue to direct their concerns to the federal government regarding the impact this can have on their farm business. •