Making carbon work for you
IN-FIELD LEARNINGS FROM SWAC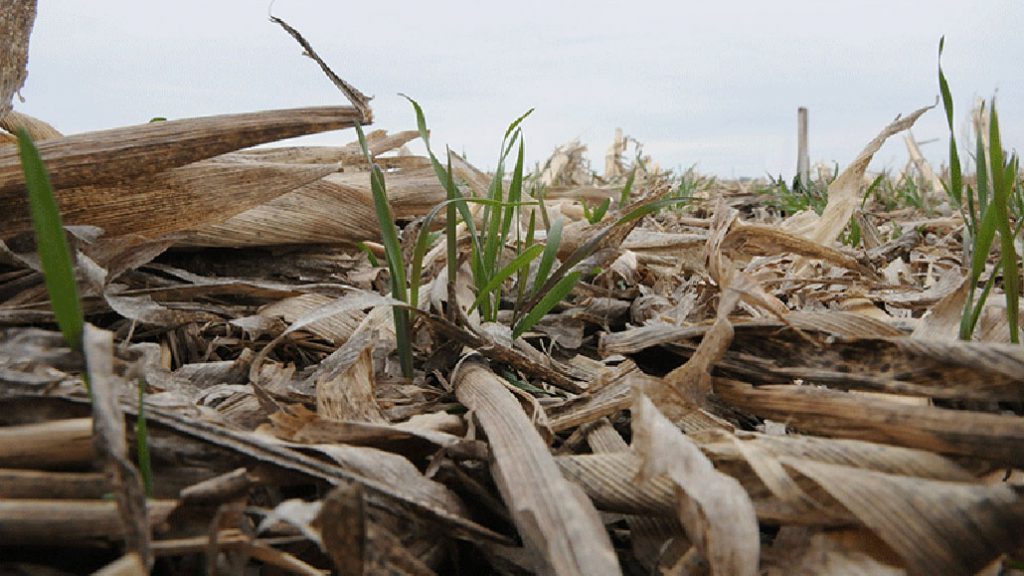 PART 1: FOCUS ON MICROBES
Carbon cycling is the "Holy Grail" of building soil organic matter (SOM).
So said Adam Gillespie, professor in the University of Guelph's School of Environmental Sciences, in addressing attendees at the 2020 SouthWest Agricultural Conference (SWAC).
Together with co-presenter Anne Verhallen, soil management specialist — horticulture, with the Ontario Ministry of Agriculture, Food and Rural Affairs, Gillespie detailed how the understanding of soil organic matter has evolved to account for the importance of microbes.
For farmers, the presenters said, practices that promote microbial activity and proliferation are fundamental for improved carbon cycling.
According to Gillespie and Verhallen, microbes make up a significant portion of SOM in life and in death; they stick to clay and other surfaces when alive and stay there when they die. This accumulation of microbial dead generates what Verhallen calls "necromass," and it has a more significant impact on SOM than initially thought.
"Probably half of organic matter is microbially derived," Gillespie says, adding lab experiments even show microbes can produce their own SOM just by feeding on sugar. While SOM still takes years to accumulate, it illustrates how effective a microbe-focused soil-health approach can be.
FEEDING MICROBES
Since microbes drive SOM, farmers should actively feed them. That means driving carbon into the soil through plant matter (cover crops).
Gillespie says root exudates (secretions) are five-times more likely to become SOM then above ground residue. This is because they have direct contact with microbes within the soil and decompose slower in the lower oxygen underground environment. Verhallen also reiterates the benefits of legumes for nitrogen fixation, as well as fibrous roots in promoting photosynthate (sugars and other plant materials) input.
PART 2: SIX STEPS FOR CARBON FLOW
"Farming for carbon" helps your bottom line by increasing return on investment, yield stability, and keeping the soil in place, according to Laura Van Eerd, professor of sustainable soil management at University of Guelph Ridgetown Campus.
In another SWAC presentation, Van Eerd told attendees carbon capture can be approached in six (not mutually exclusive) steps. Farmers Dan Petker and Steve Sickle also shared their experiences.
STEP 1: COMPACTION REDUCTION
Both Van Eerd and her co-presenters highlighted compaction reduction as a good first-step in building soil carbon. For Petker and Sickle, this can include controlling traffic — as much as is feasible – within the field, particularly during less-than-ideal (damp) conditions.
Tire inflation/deflation systems also go a long way. Upfront cost can be a barrier, however, it might be preferable to invest in such technologies when acquiring new equipment, as opposed to retrofitting existing equipment.
STEP 2: CONSERVATION TILLAGE
Keeping the soil together promotes more resilient structure, says Van Eerd. She adds her research indicates no-till management systems are particularly good at promoting soil health – through better carbon use — in the top 15 centimetres.
In his experience employing strip-till, Petker says he found the roots from small grains (such as wheat) have been able to create a "springboard-type soil" that can bounce back after being compressed by equipment.
STEP 3: CROP DIVERSITY
Van Eerd urges farmers to keep winter wheat in their crop rotations. As wheat dies, she says, red clover has opportunity to make an "extremely valuable" difference. Indeed, evidence shows red clover increases corn yields by an average of six bushels per acre. Increases in soybean yields are also possible.
"Years of research trials confirm this," says Van Eerd. "That's soil organic matter and soil organic carbon."
STEP 4: COVER CROPS
Van Eerd also stresses the value of cover cropping. As detailed by Gillespie and Verhallen, she says mixing off-season covers with different root profiles supports carbon sequestration. The diversity of cover crop species and characteristics also allows for flexibility.
"Make it work for what you're doing whenever possible," she says.
Van Eerd adds the true value of cover crops can be more acutely seen in extreme years; such as the long dry periods experienced in 2016. Both Petker and Sickle agree, the latter adding he has found particularly strong value in using oats (after soybeans) to prevent major washouts in the off-season.
"The roots act as scaffolding holding [the soil] together," says Sickle.
STEP 5: COMPOST AND AMENDMENTS
Applications of nutrient-rich material play a role as well. Even a single application of manure, compost, or biosolids, says Van Eerd, will have a statistically significant impact on yield.
For Sickle and Petker, manure is the go-to solution. However, Petker cost-shares the input (with others in his area) since it has to be trucked a considerable distance.
"We'd look for other options if they were more convenient," he says.
STEP 6: CONTINUOUS LIVING PLANTS
Maintaining living plants brings continuous carbon cycling, while keeping the ground spongy and secure. Van Eerd reiterates, "the more soil organic matter and soil organic carbon, the greater the yield."
But continuous cover is not always easy. While still interested in the prospect, Petker says past challenges have kept him from making a regular commitment to a continuous cover strategy.
PICK WHAT STEPS WORK FOR YOU
Fundamentally, Petker and Sickle say they did not necessarily follow each step in a linear order and they encourage others to first adopt the strategies that best fit their operation.
"These are just stepping-stones. You don't have to do them all in order," Petker says. "I'm not getting rid of the clay, I'm just changing what's around the particles."
"You'll notice a difference with a shovel in a year or two," says Sickle. •