Farmland values
STRONG INCREASES ACROSS CANADA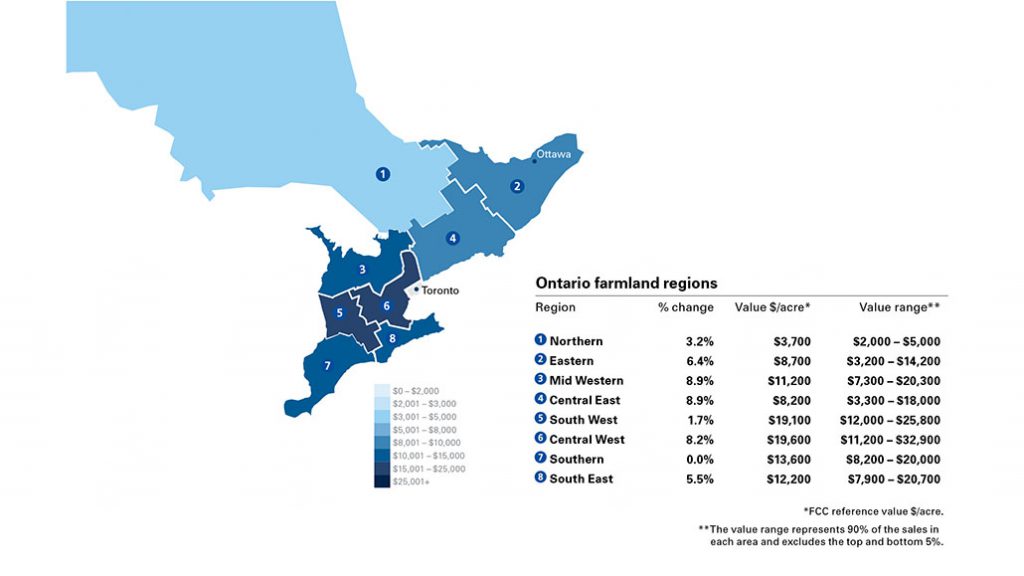 ALTHOUGH MANY ASPECTS of our lives and the national economy were negatively affected by the COVID-19 pandemic in 2021, the value of Canadian farmland — and real estate in general across the country — was not one of them. The growth in Ontario farmland values was a little under the national average, but still strong, and that growth is expected to continue.
According to Farm Credit Canada's (FCC) new Farmland Values Report, average values across the nation rose by 5.4 per cent in 2020, slightly more than the 5.2 per cent increase reported in 2019. The total number of farmland parcel sales was similar to those of the past few years.
The highest provincial increases in 2020 were recorded in British Columbia and Quebec, with averages of eight per cent and 7.3 per cent respectively. Alberta followed with an increase of six per cent, and Saskatchewan mirrored the national average increase of 5.4 per cent. Manitoba had an increase of 3.6 per cent, and there was an average increase of 2.3 per cent for Prince Edward Island, 1.6 per cent for Nova Scotia, and 1.3 per cent for New Brunswick. For the fifth year in row, there was an insufficient number of publicly-reported sales in Newfoundland & Labrador to do a full assessment.
ONTARIO
In Ontario, average farmland values increased by 4.7 per cent in 2020, compared to 6.7 per cent in 2019. Values varied from stable to increasing due to high demand and limited supply of available land in many areas of the province. Demand from large, intensive, supply-managed farm operations, grain farmers, and part-time farmers all played a role in land value increases.
Farmland on the outskirts of urban centres or within close commuting distance to larger urban areas also drew more demand from part-time farmers, rural residents, and private investors.
"Private investors can include institutional investors, typically leasing back the land to local farmers," explains Stacey Wilks, FCC senior appraiser for Ontario. "These can also be individual investors holding land as part of an investment portfolio."
The most significant growth in average farmland values was observed in the Central East and Midwestern regions, which both reported 8.9 per cent increases, while the Central West had an increase of 8.2 per cent. Demand grew in areas with limited supply and there was some sale of several smaller rural parcels. However, there were some small decreases in farmland value in parts of these regions such as in the northern section of Central West region. The most significant increases in Central East were experienced in the traditionally lower-priced areas located in the most eastern part of the area.
There was an overall increase of 5.5 per cent in the South East region, with limited supply and stable demand. Growth in value was mostly observed in the eastern and southern parts of this area.
The Eastern region had a 6.4 per cent increase, compared to a 2.3 per cent increase in 2019. Increases were experienced mostly in the lower-priced areas of the region, with more stable values in higher-end areas.
"In comparison to the other regions in Ontario, some areas in the Eastern Region have some of the lowest-priced farmland in Ontario," says Wilks. "There is limited sales data available in the area, suggesting there is a limited supply. There has been a trend in other areas of Ontario that have seen multi-generational communities move from higher-priced areas, where there is limited supply, to lower-priced areas, where they are able to expand their farming operations and set up children to farm."
In terms of whether any information is available on how much Ontario farmland was sold in 2020 in each region, and whether some of this land may be put to other uses than farming, Wilks notes that while FCC aims to capture as many farmland sales as possible, it cannot capture every transaction and so it is difficult to say how much farmland sold in each region. Who bought it or for what purpose is not examined in the FCC analysis. Wilks can say, however, that based on historical data, trends would suggest that farmers will continue to fuel the demand for farmland.
Among many drivers for the increase in farmland value are weather conditions, commodity and livestock prices, interest rates, and intended land use. Supply, Wilks notes, continues to be a particular factor in Ontario. "In some regions," she says, "supply of available farmland on the market does not meet the demand."
FARMLAND VALUES – A GLOBAL LOOK
International real estate company Savills notes in a 2019 report that since 2002, global growth in farmland values was strong and in many parts of the world, it continues to increase.

From 2002 to 2018, the firm's Global Farmland Index recorded an average annualised value rise of 12 per cent for farmland, and "the emerging markets of Central Europe and South America witnessed the strongest growth over this time."

Savills' experts note that North American farmland values witnessed an annualised increase of 6.1 per cent over that period, but with only a 1.6 per cent rise over the most-recent five years (2013 to 2018).

Western Europe has seen a softening in average annualised values from 2013 to 2018, with the exception of Germany which showed an increase of 5.4 per cent over that period. Australia and New Zealand have recorded lower rates of growth in recent years, states the Savill report.

However, Alex Evans, corporate communications manager at Dairy Australia notes that land values in that country "are currently very strong, driven by high returns in beef, sheep, and horticulture industries that compete for the same resources."

Savills states in the report that "with a rising global population and a new urgency on climate change responses in some developed economies, the long-term importance of food and energy security is not expected to abate. Globally, we expect the demand for productive farmland to increase." •