Insect control from the air
AN EMERGING TECHNOLOGY FOR CROP PROTECTION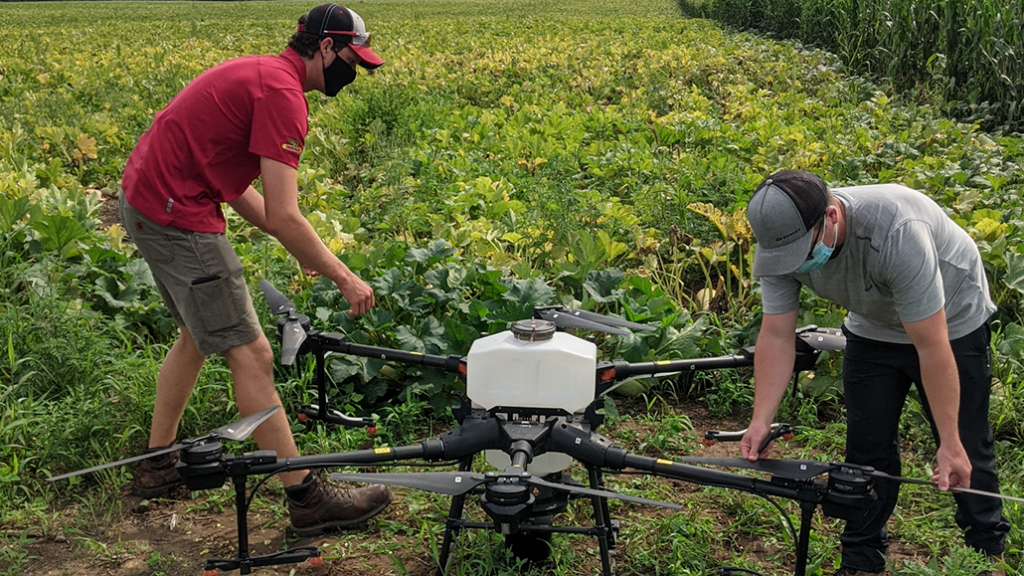 APPLICATION OF INSECTICIDE to crops by drone is not yet permitted in Canada, but interest is strong. "With drones, you're not driving through the field and damaging the crop," says Chuck Baresich, general manager at Haggerty Creek in Bothwell, Ontario, which offers grain handling, agronomy and digital ag services. "We've found the application of liquids is similar to what you get using a helicopter, and you don't get the compaction and crop damage of a ground rig. There is also no need to take a big sprayer down narrow roads."
The Haggerty team did some drone trials in 2021 (brands DGI and XAG), spraying liquid into soybean fields, and also tried cover crop seeding. "We're considering doing trials for fungicides in soybeans this summer. We may apply for a research licence to do insecticide application, a product like Delaro that's broad-spectrum or Cygon for spider mites. You can scout first and make a map, then spot apply so that you don't hurt the beneficials."
In terms of other benefits of drone insecticide application, Hyven Huang adds that drones are a critical way to keep costs under control for Canada's many small or mid-sized farms. Huang owns SKY AG Tech, based in Winnipeg, which has had a long-term joint research collaboration with the University of Guelph; together, they conducted cover crop seeding trials by drone at the University's Elora Research Station in October 2021.
SMALL SIZE, BIG BENEFITS
Huang notes that there are about 109,000 small or mid-size farms in Canada, with around 34,000 located in Ontario. "Today, Canadian growers are facing challenges from increasing asset costs and operation costs," he says. "Unlike the big-acreage farms, the cost of conventional machinery is unaffordable to the small or mid-sized farms."
Drones, he says, also help do away with the costly traditional concept of applying crop protection products or extra nitrogen to an entire field. Rather than applying nitrogen or products to control disease, weeds or pests where they are not needed, site-specific application by drone or other un-manned precision farming technologies that operate in real-time represent a much more cost-effective — and sustainable — way to farm.
Before getting to the site-specific application stage of product application, drones are first used to scout for insect presence. They can also carry all kinds of sensors to give unprecedented insight into crop health. According to a recent report on the global market outlook for agricultural drones, released in February 2022 by research firm Global Industry Analysts, "the bird's-eye view of the field offered by agricultural drones allows farmers to identify various issues like fungal/ pest infestations, irrigation problems and soil variation. Multispectral images offered by agricultural drones reveal a near-infrared view and a visual spectrum view, enabling farmers to identify differences between unhealthy and healthy plants, which are difficult with the naked eye."
This research firm projects that the global market for ag drones will reach U.S. $5.7 billion by 2025, registering a compounded annual growth rate (CAGR) of 30.2 per cent. The U.S. represents the largest regional market, with an estimated 31 per cent share of the global total. China is expected to emerge as the fastest-growing regional market with a CAGR of almost 37 per cent. Countries such as Australia, Japan and Korea also lead the way.
DRONE USE INTERNATIONALLY
However, Canadian farmers cannot presently take advantage of drone insecticide application. "Canada is lagging behind not only in regulatory innovation but also technology innovation," Huang notes. "Up to 2021, 61 per cent of U.S. states have a company or individual licensed or certified to apply insecticides with drones. Australia loosened the regulatory restriction for spraying chemicals from drones in 2020, and the market is booming exponentially."
In Canada, drone application of fungicides, herbicides, and insecticides is not permitted by Health Canada's Pest Management Regulatory Agency (PMRA). Non-pesticide products like fertilizers and supplements are regulated by the Canadian Food Inspection Agency. Still, none of these types of products currently registered in Canada recommend application using drones on their labels.
However, the PMRA states that it's "aware that farmers are interested in using drones as an application method for pesticides," and "is actively working with international partners to identify the types of data required for these assessments and to ensure that this new method of application will not pose risks of concern to human health and the environment." The agency has received and approved several research authorizations to study the efficacy of application via drone and is involved with several working groups to generate the data for regulatory approval of drones. There is no established timeframe for the completion of any of this.
PMRA explains that for the application of pesticides, drones will have to be listed on registered product labels similar to planes and helicopters. However, "drones will likely produce different spray drift profiles than planes and helicopters, and therefore the level of mitigation required for drones will be different."
It's good news that Transport Canada currently allows a single operator to fly up to five drones if they are flown from a single control station, and the manufacturer's instructions are followed. Special authorization must be received to fly more than five. The PMRA is not certain whether the simultaneous use of multiple drones will result in a changed risk profile and, consequently, affect its risk assessments.
Huang notes that the potential drift issues from drone spraying may be a concern but explains that "considering ground sprayers or aerial sprayers are costly and consume a large amount of chemicals during the applications, and that our fully autonomous ag-drones are able to fly lower and apply more precisely than manned aerial sprayers to reduce the drift and chemical inputs, the limitation to drone sprayers sounds unwise."
In his view, farmers "definitely need" regulatory advancement from PMRA. "That would be the key to achieving both the "Go Green" and "Grow Economy" targets in Canada, to increase economic benefits and minimize the environmental impacts through precision unmanned technologies and solutions in the coming years," he says. "If we believe that our future farming should achieve 'grow more with less input,' then drone application should play the key role." •