The shows go on
AGRICULTURAL EVENTS BACK AFTER LENGTHY HIATUS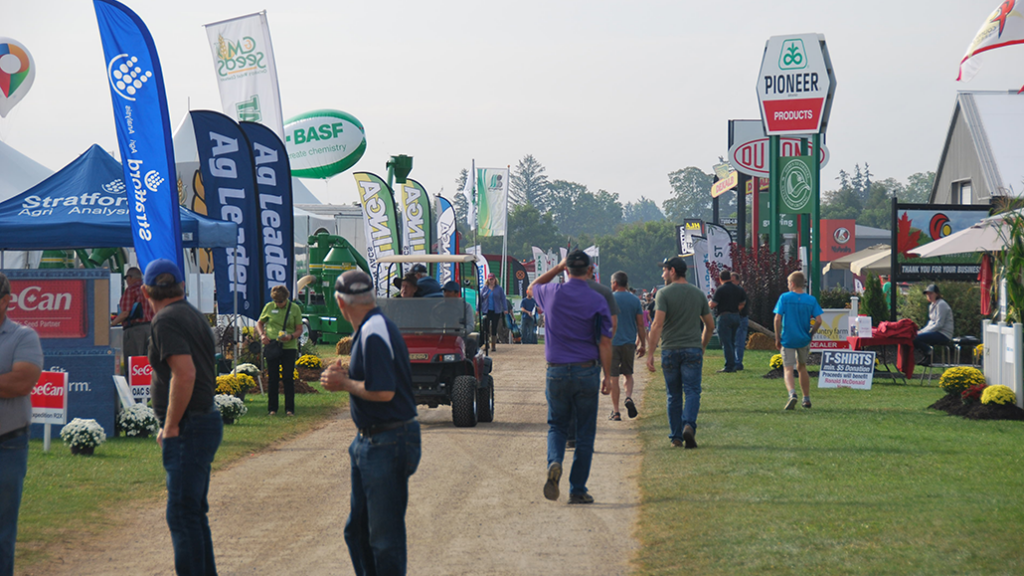 IT HAS BEEN two years since farmers across Ontario were able to gather at large events like fairs, farm shows, and plowing matches. In 2022, as Covid-19 pandemic restrictions ease, it's looking promising for the return of these summer and fall events running at "normal" or "almost normal" capacity. Grain Farmers of Ontario reached out to the three largest agricultural events in Ontario to see how they coped through the pandemic, what changes they have made, and what guests can expect when they walk through the gates in 2022.
CANADA'S OUTDOOR FARM SHOW
Canada's Outdoor Farm Show (COFS) looks forward to hosting an in-person event September 13 – 15, 2022, near Woodstock, Ontario. In March of 2022, COFS announced that they had secured a permanent home at this location as part of the Discovery Farm — Woodstock.
In 2021, COFS hosted digital events and smaller in-person activities like Dairy Days and Crop Stop. Doug Wagner, president of COFS, understands that farmers "like to see and touch equipment before buying," so they look forward to giving farmers an opportunity to experience agricultural equipment and technology up close and in-person. He acknowledged that a few regular exhibitors won't attend this year as some companies are still not attending trade shows and others don't have equipment available to display due to supply chain issues. There will still be lots to see, including the Great Lakes Helicopter Company demonstrations of aerial spraying of fields and demonstrations of drone spraying. This year's two large field demonstrations are "Planting Winter Wheat" and "Tillage of Corn Stalks." The Ontario Ministry of Agriculture, Food and Rural Affairs is sponsoring an Innovation Showcase where they will feature several new technologies that will benefit the agriculture industry. Covid-19 has been a driver for moving to online ticket sales, and visitors are strongly encouraged, where possible, to purchase tickets in advance.
Find out more at www.outdoorfarmshow.com.
INTERNATIONAL PLOWING MATCH
The community of North Grenville will welcome visitors to the 2022 International Plowing Match and Rural Expo (IPM) from September 20 – 24. This is the first International Plowing Match to run since 2019 and the first large agriculture event in eastern Ontario in three years. The IPM gives the agricultural community a chance to connect with consumers and the non-farm public and provides an opportunity for agriculture and the community to come together and celebrate the host county and surrounding area.
The IPM has always had sentimental value to farmers across Ontario, especially in eastern Ontario, as it often is a place for friends and neighbours to meet. The Match will be held on the site of the former Kemptville College of Agricultural Technology Farm (KCAT) — local committee chair Harry Bennett invites KCAT alumni to "come back to the campus, renew old acquaintances, see exhibits, and enjoy what North Grenville has to offer." Visitors are encouraged to check out the Barn Quilt Trail throughout the community. With approximately 1,200 sites in the RV Park, 800 of which are serviced, the Local Committee hopes people will come and enjoy all the community and neighbouring municipalities have to offer. The Match is a 45-minute drive south of Ottawa for those wishing to also take in the sights of Canada's capital.
Find out more at www.plowingmatch.org.
ROYAL AGRICULTURAL WINTER FAIR
Celebrating its 100th Anniversary, the Royal Agricultural Winter Fair (RAWF) not only brings the farm to the city, but they intend to do it with a lot of WOW! New signage, online schedules, and new technology are just some improvements guests will experience when they step onto the grounds at Exhibition Place. The RAWF has made the largest capital investment in a single year in the show's history with new stalls added to the large livestock area, freshly painted horse stalls, lighting upgrades, and an air purification system.
"It is imperative we create an experience above and beyond what we have been doing previously," said Charlie Johnstone, RAWF CEO.
In 2022, every major livestock show will have its national championships at the RAWF, and they are now a 5-star Fédération Equestre Internationale horse show. As part of the 100th Anniversary celebrations, they will be looking for people to share their stories and photos about what the Royal means to its many generations of exhibitors.
The highlight of the celebrations will be a 100th Anniversary Gala hosted on November 2, before the Fair's official opening on November 4. The Gala, hosted by Rick Mercer, will feature dinner in Heritage Court, followed by entertainment in the Coca-Cola Coliseum featuring the RCMP Musical Ride, a showjumping exhibition, and a special feature on agriculture. Performances from up-and-coming country singer Sasha, Ontario's First Poet Laureate Randell Adjei, St. Andrews Pipes and Drums, and headliner Juno award-winning band Blue Rodeo will wrap up the star- studded event.
During the pandemic and subsequent shutdown of the Fair, the RAWF's education material continued to be sought after by educators. To meet the demand, the RAWF expanded their online presence in 2021 by continuing the education component of the organization's mandate. They hosted live farm tours viewed by schools across the province, many of whom wouldn't physically attend the RAWF in person due to their locations throughout Ontario. The RAWF will continue with this program in conjunction with the in-person event in 2022.
Find out more at www.royalfair.org.
Grain Farmers of Ontario will be exhibiting at these three Ontario agricultural shows. Watch for our "Grains on the Go" trailer. •