Open for business
DOUG FORD, PREMIER OF ONTARIO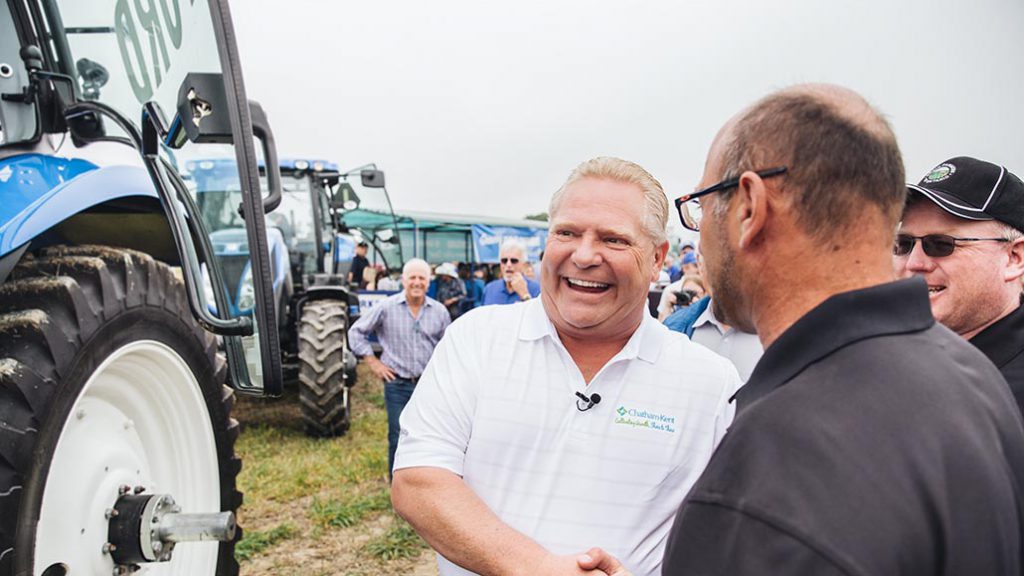 An Ontario Grain Farmer Q&A
(OGF) WHAT ISSUES ARE YOU FOCUSING ON TO ADDRESS THE NEEDS OF RURAL ONTARIO, AND SPECIFICALLY FARMERS?
(D.F.) The Ontario PCs are proud to have MPPs from across rural Ontario serve in our caucus and cabinet who bring forward this important perspective. And, it was very important to me to appoint a farmer who understands first-hand the challenges farmers face as our Minister of Agriculture, Food, and Rural Affairs. Minister Ernie Hardeman has been doing great work on the file, and we look forward to delivering real relief to farmers.
Our Government for the People is committed to bringing broadband internet and natural gas expansion to rural and remote communities to make life more affordable and practical for rural Ontario. We are also committed to working with the industry to ensure we have a flexible suite of risk management tools that best address the unique needs of sectors and regions. This government is committed to enhancing our Risk Management Program by increasing the cap by $50 million to better help producers manage risks outside of their control.
Rural Ontario also shares many of the same issues as Ontario at large. Our government is working to reduce the highest hydro rates in Canada, scrapping the cap-and-trade carbon tax, and reducing red tape barriers that make life more difficult for farming families and consumers of agricultural products.
WHAT IS YOUR COMMITMENT TO SUPPORTING A SCIENCE-BASED APPROACH TO MODERN FARMING?
We are committed to using an evidence-based approach to work with researchers and farmers in the agriculture sector that will continue to move the industry forward and build a future that keeps our agri-food businesses competitive, productive, and sustainable.
We are proud to support world-class research that will help the industry move forward in Ontario. Our long-term agreement with the University of Guelph is our most strategically important relationship for the sustainable prosperity of the sector. The government is investing up to $713 million with a commitment of up to ten years through our partnership with the University of Guelph.
The agreement will provide specialized expertise and access to agri-food research, laboratory analysis, and a knowledge transfer system that is foundational to the domestic and global success of the agri-food sector and strong rural communities. It will also equip students with the skills they need to succeed as the next generation of researchers, innovators, and policy-makers in Ontario's growing agri-food sector.
WHAT IS YOUR VISION FOR INDUSTRY AND GOVERNMENT COLLABORATION WITHIN THE AGRICULTURE SECTOR?
I believe that a key growth strategy is increasing the investment in Ontario between the farm and the dinner table. By focusing on increasing the value-added process in Ontario for agricultural goods we tap into an enormous global opportunity for growth for our agricultural industry here in Ontario. This government is committed to helping grain and oilseed farmers and their businesses grow.
CAN YOU SHARE WITH US AN EXPERIENCE ON A GRAIN FARM OR WITH A FARMER THAT HAS RESONATED WITH YOU OR HELPED TO CHANGE THE WAY YOU THINK ABOUT MODERN AGRICULTURE AND HOW YOU CAN HELP TO SUPPORT FARMERS AND FARM BUSINESSES?
I had the opportunity to criss-cross rural Ontario during the campaign and hear first-hand from farmers about the challenges their industry faces. When I visited these farms, I heard about the need for infrastructure in rural Ontario, I heard about the consequences of the cap-and-trade carbon tax, and about the challenges of paying hydro bills at the end of every month.
Without a doubt, it's the farmers out there in the field working day-in and day-out to put food on the tables of Ontarian families who know best – not the politicians in downtown Toronto. Our Minister of Agriculture, Food, and Rural Affairs understands farmers, and I look forward to continued discussions with Ontario farmers.
IS THERE A MESSAGE YOU WOULD LIKE TO DELIVER SPECIFICALLY TO ONTARIO GRAIN FARMERS?
Under the previous government, too often rural Ontario was an afterthought — an integral part of our province that was ignored. Our government is committed to working hand-in-hand with farmers to find more opportunities for economic growth in rural communities and value-added agriculture. This government will help grain farmers by lowering taxes, lowering hydro rates, axing the carbon tax, and cutting red tape so the industry can spend more time producing good food, and less time filling out paper work. Help is on its way and rural Ontario is open for business. •