More energy than a cup of coffee
UTILIZING BIOMATERIALS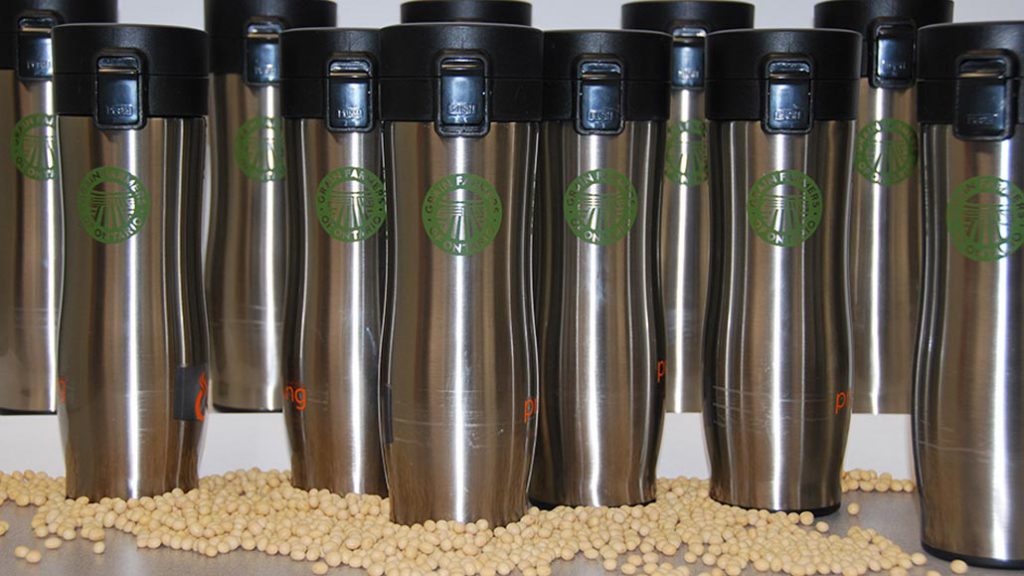 THERE'S A NEW kind of coffee mug that stores and releases more energy than a cup of caffeine, thanks to a soy-based biomaterial developed at Trent University. The mug — sold under the brand name "Prolong" — uses a proprietary "phase change" material inside its walls to cool very hot beverages (traditionally 85° C for coffee and 110° C for tea) to a safer 65° C within seconds. What's more, the material manages to keep the temperature of the liquid inside the mug within perfect range for several hours.
"The material we designed melts or crystallizes at specific temperatures and by doing so stores or releases heat at those temperatures — and producing these mugs has really taught us how to manipulate this reversible process," says Dr. Suresh Narine, professor in Physics, Astronomy, and Chemistry who also heads up the Trent Centre for Biomaterials Research (TCBR). His team brought 5,000 Prolong mugs to market in 2017, and will release another 20,000 units in fall 2018. Each one contains 125 grams of soybean oil.
Narine and Trent University have been experimenting with energy storage properties in lipids for more than eight years, thanks to a relationship with Grain Farmers of Ontario and its predecessor, Ontario Soybean Growers. Narine says the research team developed the material in response to a challenge: how to use biomaterials to store energy, and control how that stored energy gets released.
In 2016, the World Health Organization (WHO) issued a warning about the connection between drinking very hot beverages (above 65° C) and oesophageal cancer. That's when Narine's team decided to develop their technology to build a safer travel mug.
"The Prolong Cup is the first pure commercialization product that has come out of the research centre, and we're quite excited about it," says Nicole Mackellar, market development manager for Grain Farmers of Ontario. "It's also an incredible story to be able to connect with consumers, to show off a cool application for agricultural products."
Mackellar notes Grain Farmers of Ontario has used the mugs as an example of how soybean oil can be used in untraditional ways. They've highlighted it to politicians as one way to promote the unique opportunities for agricultural products.
LIFE AS A START-UP
Before bringing the mugs to market, the partners — which also include venture capital firm Northwater Capital — first established a company, Phase Materials Inc. Narine says the company managed to turn a profit in its first year, even with the limited release of just 5,000 mugs.
"The first release was a way to test the market, and see if the product is something people need," says Narine. "It told us the current structure of the design is sound and the mug works. It's highly unusual to have a zero return rate for functionality."
Narine says while the mug's structure is sound, the company has opted for cosmetic tweaks after hearing consumer feedback. The new versions will offer larger capacity, assorted colours, and a shape that lends itself better for co-branding opportunities.
The release of the Prolong mugs provided another unexpected benefit to the research team: lessons in how to run a business. The process put laboratory staff and students in touch with investors and educated them about taxes, import duties, fulfillment, scheduling, and forecasting — all important lessons for startups. For the research team, those lessons, and the longstanding partnership with Grain Farmers of Ontario, provide immense value.
"At Trent we don't just do research for the sake of curiosity — we like to have research programs that have applications and opportunities for partnerships," says John Knight, manager, research partnerships at Trent University. "In our relationship with Grain Farmers of Ontario, we're doing market assessment with farmers, and it's been a really good experience."
OPPORTUNITIES FOR SOYBEANS
For Ontario grain farmers, there are plenty of opportunities for market development. "It's a big opportunity to work with academia and other partners to showcase the ways that agricultural products can be used, and there are many opportunities, especially with soybean oil and the properties it has," says Mackellar.
The soybean oil in the phase change material uses the saturated portions of the soy, which has in some instances lost its lustre in some consumer food products, but provides a valuable use for applications such as phase change material. Narine says there are opportunities for small biorefineries or specialized crush facilities to have a differentiated stream for high value uses, like the mug.
"The whole specialty crush or biorefinery approach is really highlighted in this application," says Narine. "A lot of people are trying to get the saturates out, but a small biorefinery today could be selling streams of the part of the fat that is important to us. It makes the case that facilities that are focused on maximizing value will find markets."
WHAT COMES NEXT
As the company expands its production space and its team, Narine will continue his work in the lab to explore other uses for the phase change material. Some consumer feedback on the Prolong mugs has provided ideas for similar household products, but the team sees opportunities for industrial applications as well.
The next stage of application development is to use the same technology in phase change batteries using solar power. Further down the line, Narine sees applications for storing and using energy for home heating options, greenhouses, and even grain bins.
"Now that we've developed the materials and we know how to manipulate them, it's really more engineering and applications development at this stage," says Narine. •