Advancing education in agriculture
MORE OPPORTUNITIES FOR STUDENTS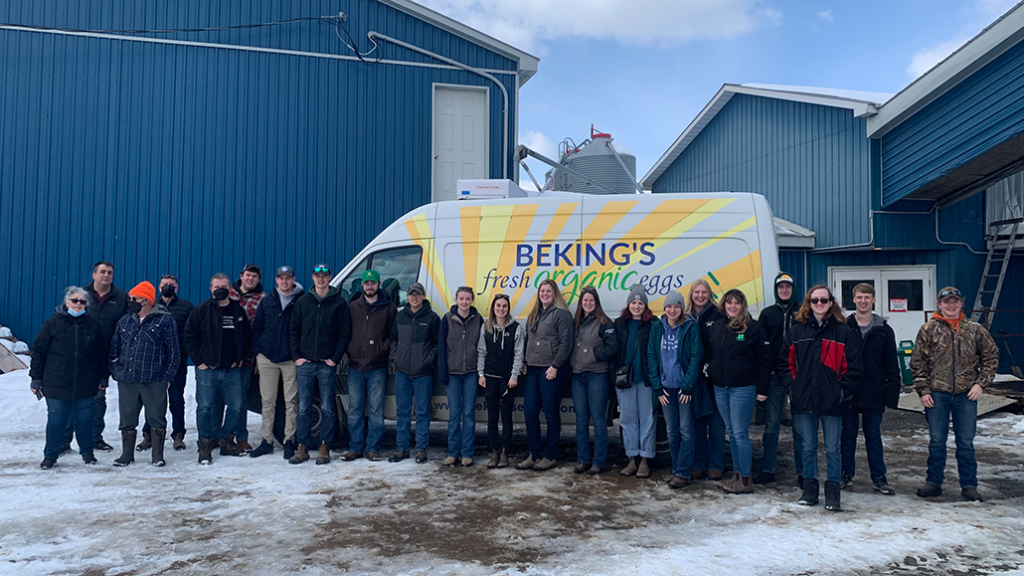 THERE IS NO doubt that the Ontario Agricultural College at the University of Guelph is home to the province's longest-standing and most recognized post-secondary programs for agricultural students. But now, other Ontario institutions are stepping up to provide more options for those considering diploma or certificate programs.
With programs ranging from agricultural business to farm equipment operation, at least seven Ontario post-secondary institutions now offer students specialized agriculture study opportunities.
COMMUNITY COLLEGE OFFERINGS
The Business — Agriculture diploma program at Algonquin College's Perth campus is a unique offering for students interested in advancing their business acumen.
New in 2019, the two-year program offers co-op and non-co-op versions and combines accounting, communications, sales and other agriculture-specific business classes with production courses on animal health and nutrition and pest, disease, and weed management.
"It's a great program because it's broad and really meshes agriculture with learning how to run a business," says recent graduate Rayleen DeJong of DeJong Acres near Georgian Bluffs. "I wanted a program that could help me take my parents' business to the next level financially, and I'm really happy with what I learned and took away from it."
Business planning courses were a highlight for DeJong because she learned how to write a viable business plan for her family's farm store and got experience pitching it to a panel of business owners and bankers.
She also appreciated the practical knowledge and real-world experience she learned from the program's instructors, most of whom are part-time teachers who either farm or have other careers in the agriculture industry.
Algonquin College also offers a two-year Horticulture Industries program at the Ottawa campus.
In collaboration with Algonquin College, the Business — Agriculture diploma program launched this fall at Northern College. Students will take specialized courses virtually through Algonquin College, with in-person classes held at Northern College's Kirkland Lake campus.
In central Ontario, Durham College offers two horticulture-focused diploma programs at the Whitby campus, Horticulture Technician and Horticulture — Food and Farming. The latter encompasses many aspects of food production, including soil and plant nutrition, plant propagation, product development, food processing, and food safety. A Sustainable Local Food certificate comprising six online courses taken on a part-time basis is also available.
In Lindsay, Fleming College offers a 10-week Agricultural Equipment Operator certificate program at the Frost Campus. This program consists of eight courses on machinery management, preventative maintenance, safety, tractor operation and design, and more. Students also receive hands-on simulator training, allowing them to practice skills in a controlled environment.
UP AND COMING
A new certificate program — Heavy Equipment Techniques — Agriculture Equipment Operation and Maintenance — is expected to launch at Conestoga College in the 2023-2024 academic year.
Spurred by the labour shortage in agriculture, the college completed a two-year Agriculture Equipment Operator pilot program at the Brantford Airport campus in 2022.
It was deemed a success, says Adam Davies, associate chair of workforce development and partnerships in trades. Plans are underway to include both in-class courses and field-site work during planting and harvest in the full-time program.
"It has really been a community project to get the program to this stage," says Davies. "The community in Brant County and Brantford is very behind this idea, and we're looking to benefit the local community with the students that will come out."
GRADUATE PROGRAMS
For students who have a diploma or degree, or equivalent experience, Fanshawe College offers a 36-week Agri-Business Management graduate certificate in both London and Simcoe. The program is geared toward those entering the supervisory level in an agricultural business or organization. Courses cover sales, marketing, human resources, occupational health and safety and finance, safe handling and application of pesticides, and precision ag technology.
Students who have studied for two years in a university-level undergraduate program or have a diploma can apply to the Sustainable Agriculture graduate certificate program at Fleming College in Lindsay. According to the college, the program was designed for new farmers seeking applied learning in sustainable, ecological or natural farming. It involves two semesters of courses and one summer of an on-farm co-op position.
Similar to Fanshawe, Lambton College also offers a graduate certificate in Agri-Business Management at the Sarnia campus. It is a two-year program available to students with a university degree in agri-business, economics, science, environment, or other fields of study.
Courses are focused on business topics as well as some agricultural areas such as field crops, greenhouse operations, livestock production and machinery and farm safety. The fourth term can either be a co-op work term or a work-integrated learning project. •